If my complaints could passions move (2004)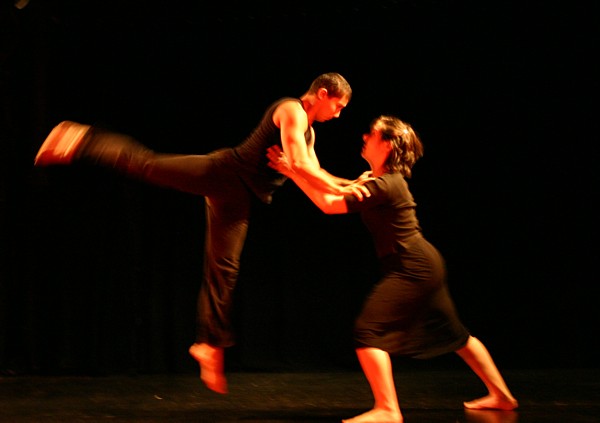 Music Arrangements by Bob Lukomski, after Henry Purcell and John Dowland

Performed by Dana Kotler and Bacilio Mendez II
with Brooke Bryant, Soprano, and Daniel Okulitch, Bass-baritone
One Arm Red, Brooklyn, NY
June 2004
If my complaints could passions move is an exploration of relationships, the manner in which men and women respond to one another, from mundane situations to arguments, passionate encounters, mere coexistence in time and place. The piece is set to electronic vocal arrangements of the secular songs of Henry Purcell and John Dowland, created by composer Bob Lukomski and performed as a combination of live and electronic voices.
Les Folies Francoises (The Color Pieces) (2004)
Music by François Couperin
Arranged and Performed by Rachel Schermer, Harp
WAX (Brooklyn, NY) and Dance Space Center (New York, NY)
January 2004
François Couperin's series of harpsichord pieces, Les Folies Françoises, is based on a series of colors, with each section representing a singular color, the motifs and feeling of the piece exemplifying the color itself. In this 10-section work, 3 dancers add the element of movement to further delve into the emotional significance of each color.
A site specific work on the Bastyr University Reflexology Path
Choreographed and Performed by Dana Kotler
Music Performed by Rich Oliva, Aditi Sethi, Jay Brown
Bastyr University, Kenmore, WA
August 2006
In walking the reflexology path, one senses a variety of pressures on the soles of the feet. In this piece, I aim to translate that visceral response into full body movement, using the pressures in my feet as points of initiation. I deliberately created this piece as a structured improvisation—the sensations one feels, the sensitivity and tenderness of particular points, is completely unique each time one walks, or in this case, dances, the reflexology path. These sensations give rise to distinct movement patterns, which reflect the body's response to the path at that moment. The interpretation of the piece stretches into a broader journey through life, space, and time, and a reflection on our body's uncanny ability to respond to external influence, re-balance, and re-center in the face of obstacle and complication.
View the performance at pathsofhealth.com.