Where to begin? Maybe when I met Murphy Mack at Becky and Tony Mikrut's wedding (Table 10!). We hit it off right away and kept in touch long after. So when Murphy brought up a Trans-Mojave ride last summer, my initial thought was that it would be amazing to get out of Boston in February and ride bikes in California. As the plan became more formalized, and the pre-run photos went up on Facebook, I got more and more excited. I proposed the trip to a few friends, and Chris Gilbert and Chris McIntosh decided they were in. After a ton of planning, anticipation, and confusion, we flew to LA to begin this adventure. Even the trip from LAX to Santa Clarita was an adventure... a 3 hour shuttle ride in a torrential downpour in some of the worst traffic ever, among Californians who have no idea how to drive a car when water falls from the sky.
Also, I should have written something every night, since it's all kind of a blur, but I'll do my best to describe each day. The cast of 11 characters include: me (rider of mountain bike, GoPro-er, as-needed physician), Chris Gilbert (borrowed mountain bicycle rider, historian, vegan, bike rider, professional dilly-dally-er), Chris McIntosh (photographer, mountain biker, cyclocrosser, young person, go-downhill-fast guy), Michael (cyclocross bicycle rider, wine industry professional, watt machine, husband of Jen), Jen (mountain bicycle rider, all around badass, wife of Michael), Andy (cyclocross bicycle rider, wearer of neon colorways, cat enthusiast), Pau (of Barcelona, off the front guy, Mavic model, drinker of micheladas), Nick (skinny, climby, peanut-buttery), Sourav (this dude rode the entire tour on a fucking BASSO ROAD BIKE, enough said). Tour leader was Murphy (#murphyfacts), and bringing up the rear, shuttling our asses around was Trevor (bikes, books, 'n banjos, provider of Red Vines, intermittently shredding on other people's mountain bikes as time permitted).
We were all in awe of the landscapes immediately, but looking back after the entire trip, the remote areas that we visited make day 1 seem like a jaunt through the suburbs (but with a whole lot of climbing)! We started on beautiful roads, winding through valleys, with a few long-ish gradual climbs which definitely woke me up. I'm not used to climbing on a mountain bike, so day 1 was about finding my legs. About halfway through the day's riding, we hit the dirt. After the heavy rains in LA, some of the sandy dirt roads had turned into a swamp which would just grab my wheel and hold onto it until I could granny pedal it loose. When we got to the second rest stop, somewhat behind the leaders, Murphy and Trevor offered us a ride int he trucks to bypass 10 miles of road past a wind farm (giving me the opportunity to tell my favorite joke about wind turbines... "what kind of music do you like?" "I'm a big metal fan."), and then the option to transfer up the next climb to a set of magnificent petroglyphs. Chris McIntosh decided to ride, I took the transfer. The view over the wind farm was stunning, and dudes on motos provided an intermittent soundtrack. We had beverages at the pegroglyphs and then ripped downhill. We rode through dirt and mud towards the town of Mojave as the sun started to set. This was when things got a little weird. My knee had started to ache, so I was going to jump in the truck for the last few miles. This was when we found Chris and Jen, looking for Jen's wallet which had fallen out of her pocket. She found it, but then also found a barbed wire fence which was not visible in the dark. With a ripped tire, she needed a lift back. While getting organized and trying to figure out how to get more riders to the hotel than we had seats, we unfortunately drained the battery of the Pathfinder, but luckily Murphy showed up with beers and the second truck to rescue us. We made it to Mojave, but by that time all that was open was Denny's, where we ate everything, concluding day 1.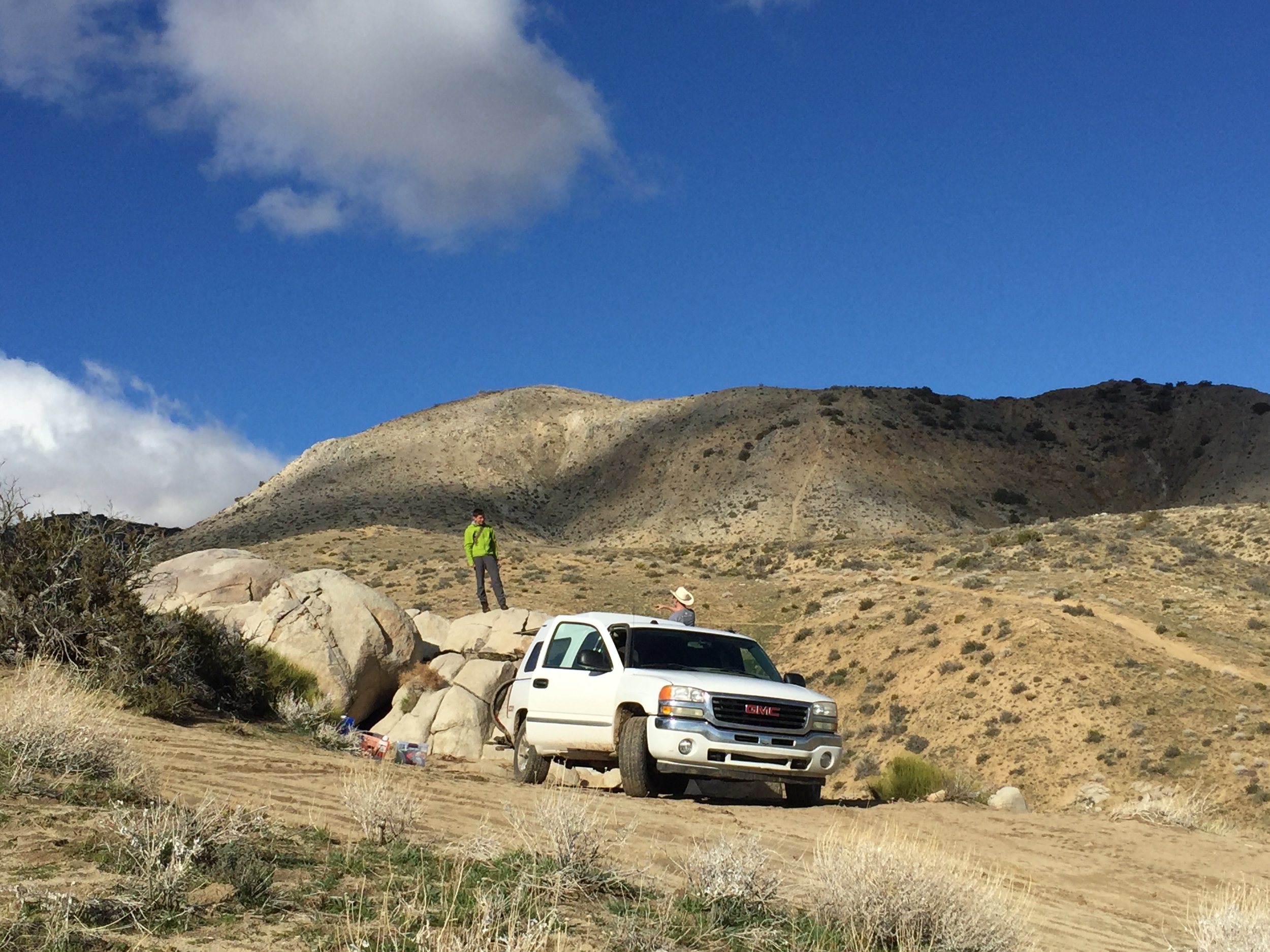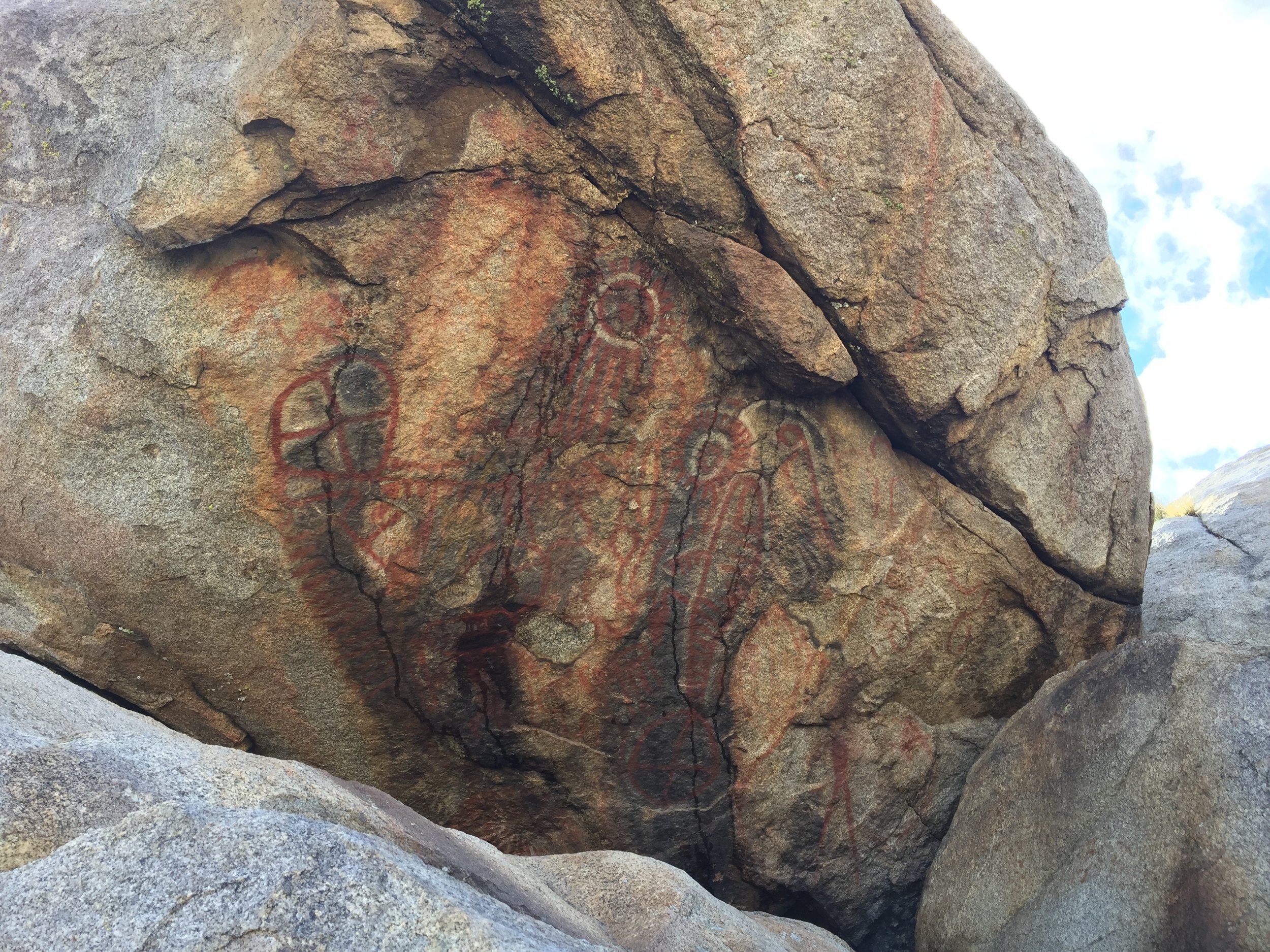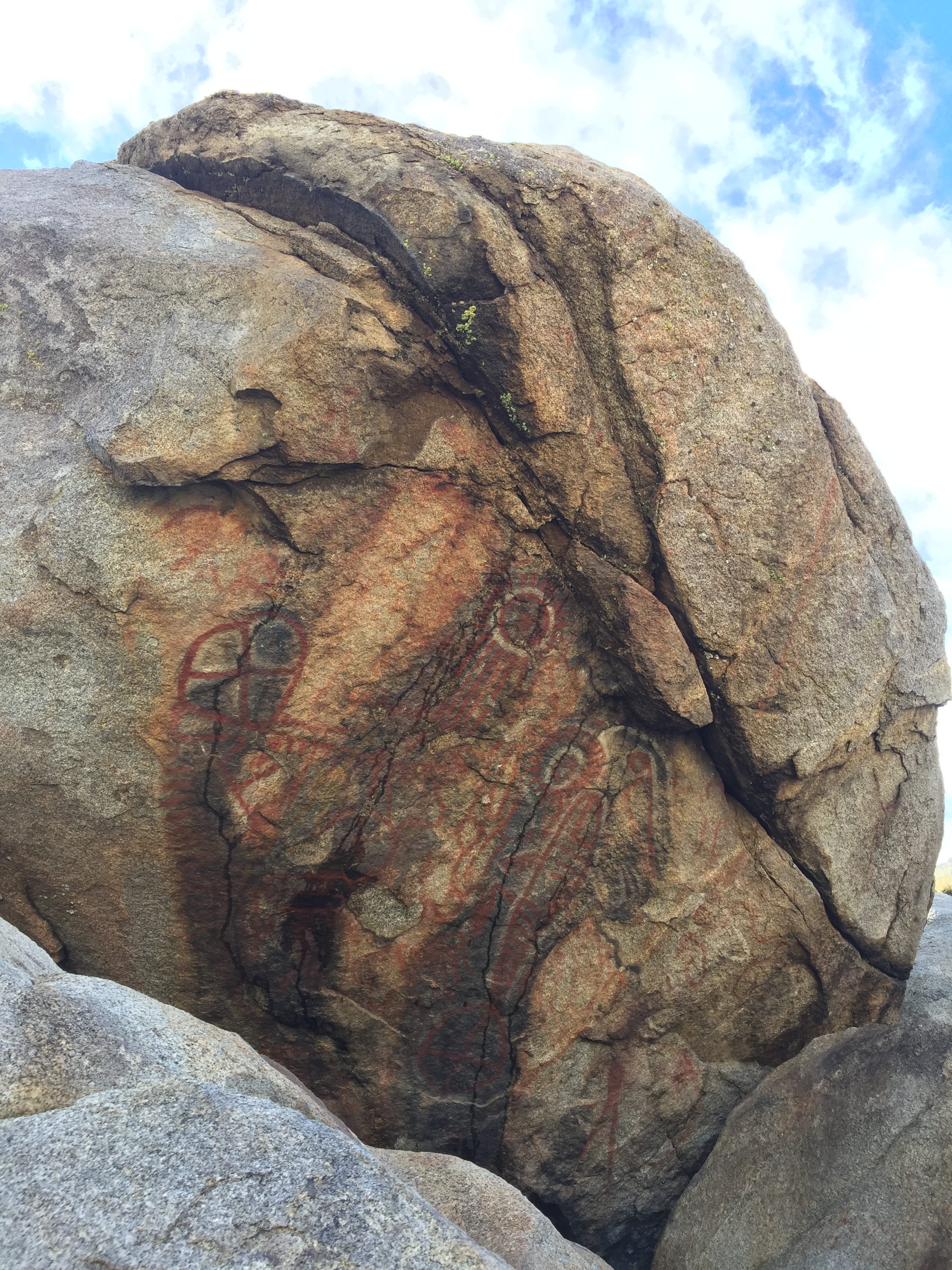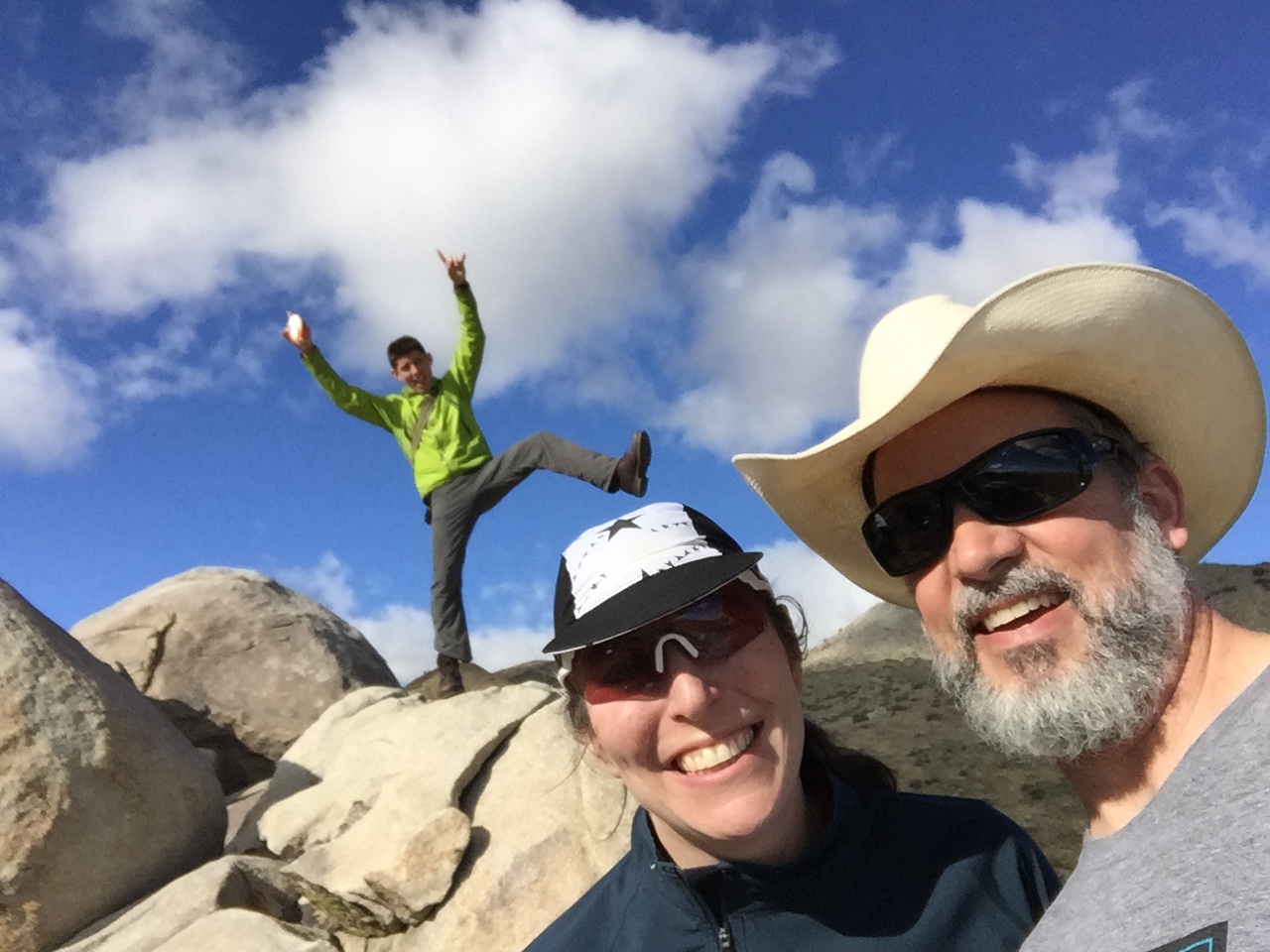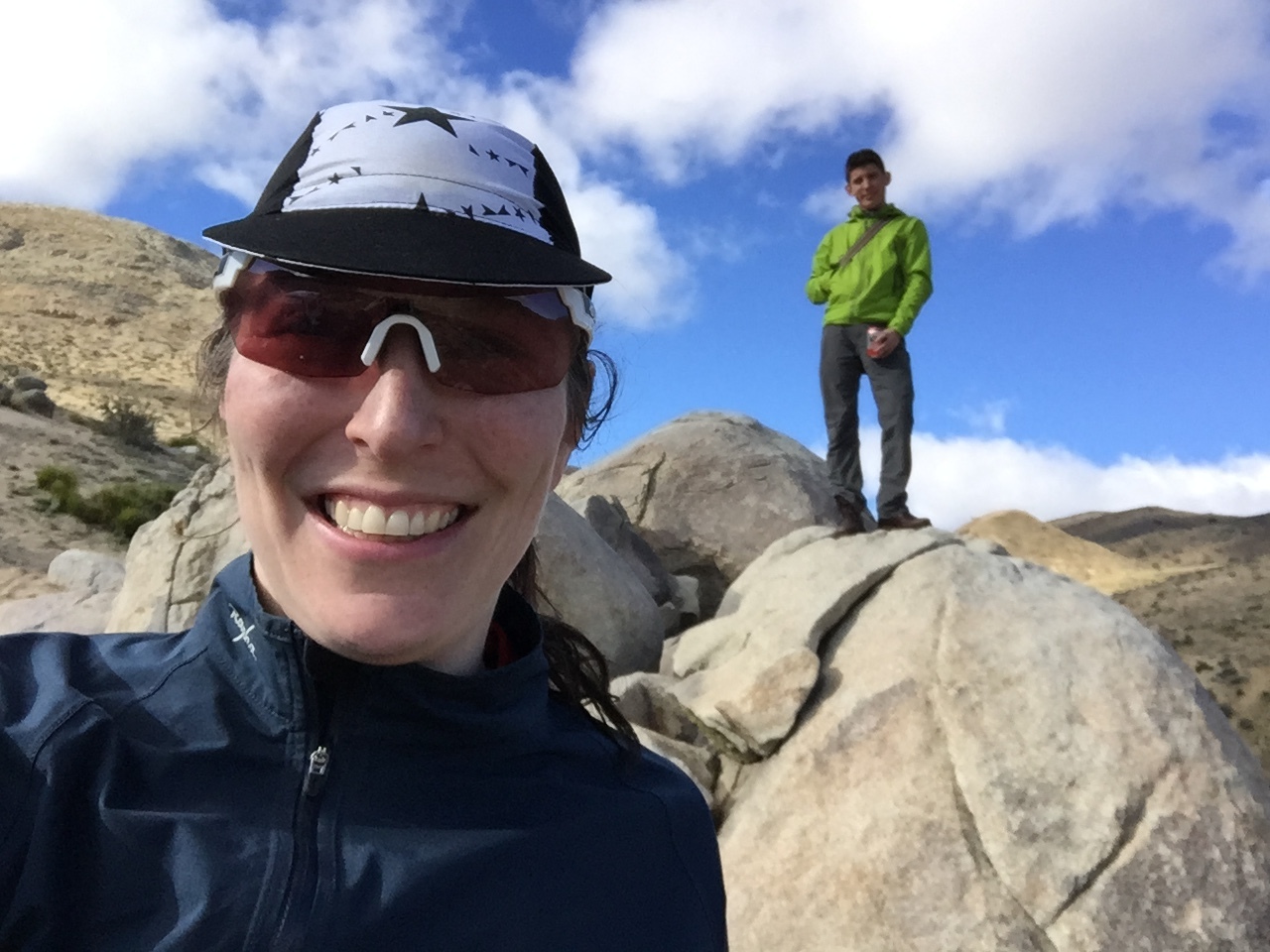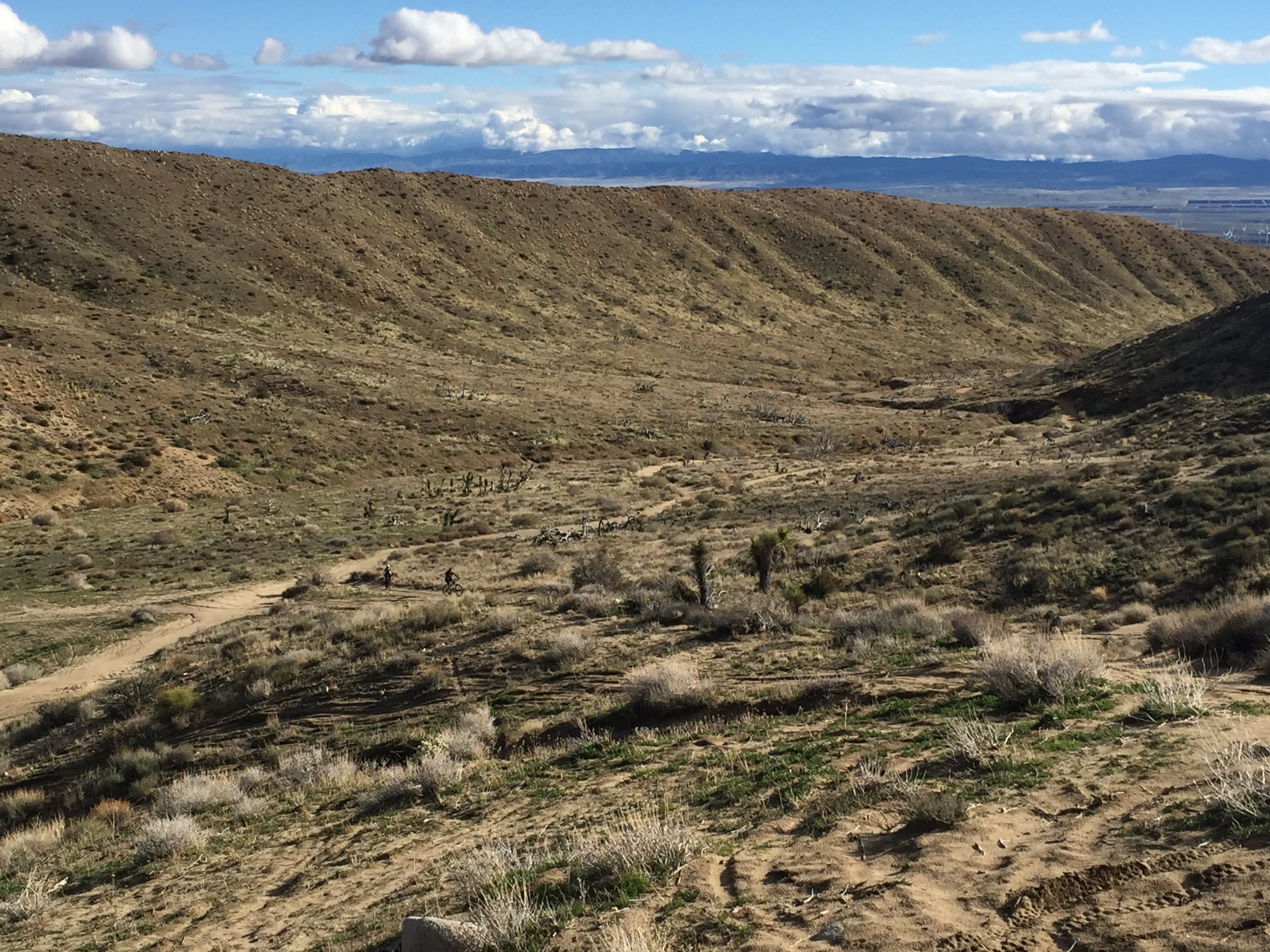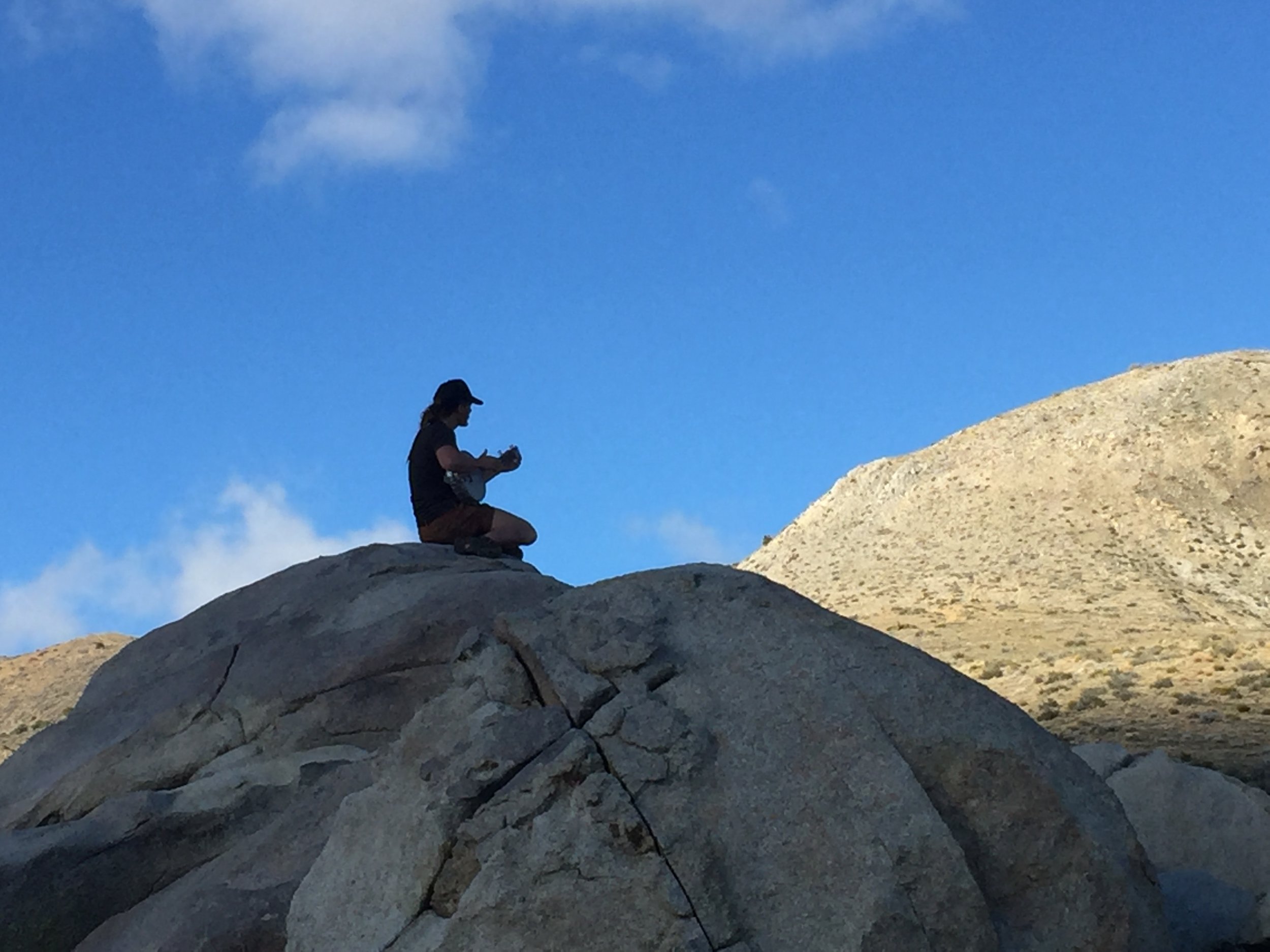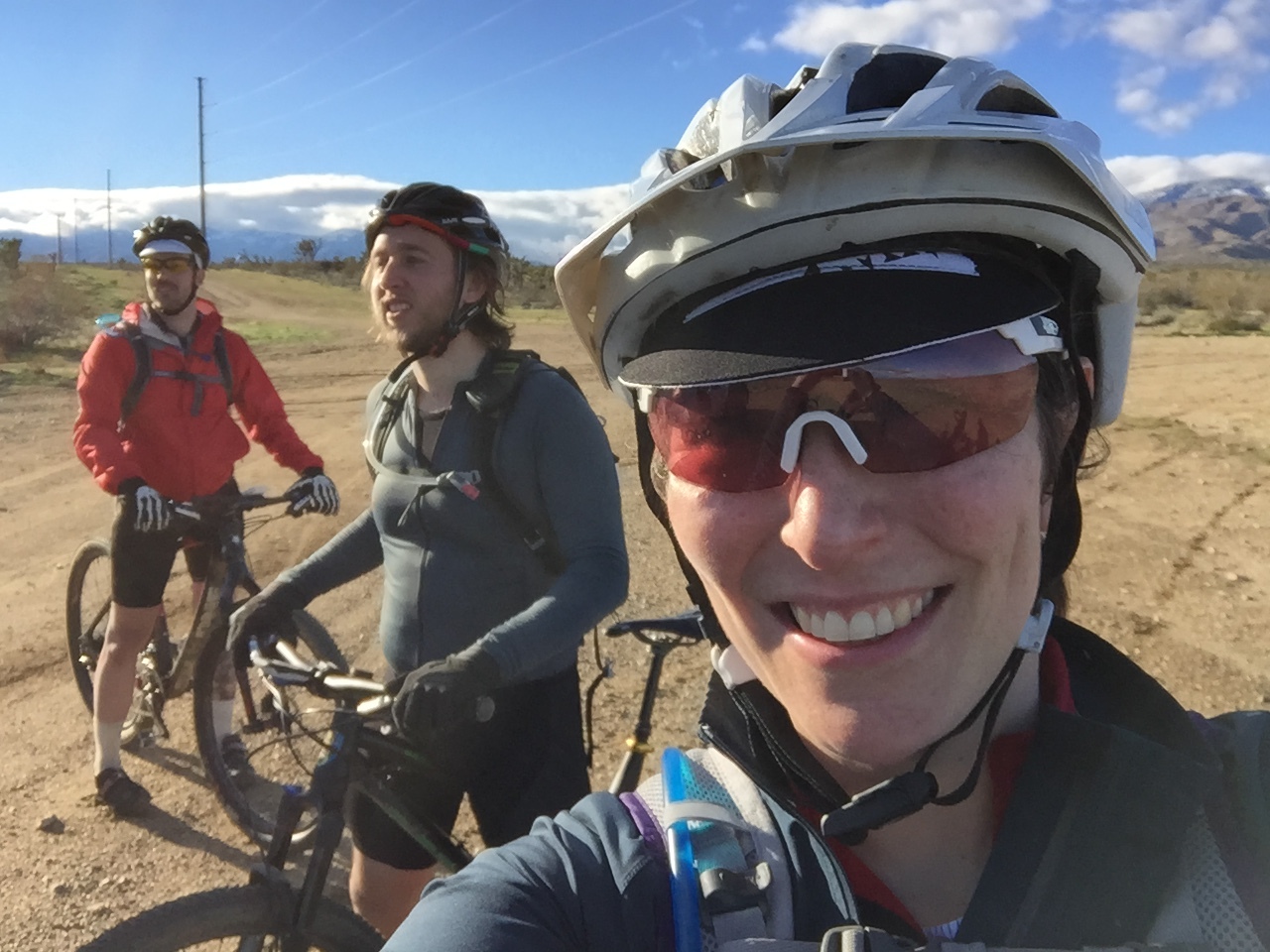 Day 2 started with a flat, gradual downhill (amazing how it doesn't really feel like downhill when you're riding through sand). The landscape was again not at its presumed baseline, because of the rain a few days before. There were cracks and splits in the sand causing sharp dropoffs, and at times I had to ride off the sandy road, in the open desert, which was tough even on the flat. We rode through California City and into an ATV park, where we started a 16 mile climb on a very sandy road towards our lunch stop. McIntosh was up ahead setting pace goals, while I trudged along, front wheel shimmying when I hit the deeper stuff. I was going very slow, and the more I ground ahead, the more my right knee was bothering me with every pedal stroke. I stopped several times to aggressively stretch my hamstring (not really thinking so clearly, obviously), which was mildly helpful, but only short-term relief. The truck came up to me several times, offering me a ride, and it wasn't until Gilbert voiced his concern about how much pain I appeared to be in that I reluctantly took Trevor up on a ride for the final few miles of the climb to the lunch stop. Since it was hurting even to turn the pedals over at this point, I decided to stay in the truck for a little while longer, and got a tour of dilapidated towns of Red Mountain and Randsberg (which was surprisingly hopping with moto guys for a supposed "ghost town"). Trevor encouraged me to get back on my bike for a fast road descent (which would have been lovely and way faster without the serious headwind), but even turning the pedals with minimal resistance was hurting. When we got up the next steep and rocky climb (that looked, and according to everyone who rode it), absolutely brutal, I asked Gilbert to take a look at the back of my knees, and that's when I discovered the swelling and bruising. Fearing a hamstring or popliteus injury, I cut my losses and rode in the trucks with Murphy for the remaining 20-30 miles of the day. There was a windy traverse/descent to a field of petroglyphs. From there, it was downhill at dusk to the town of Ridgecrest, where we spent our next night.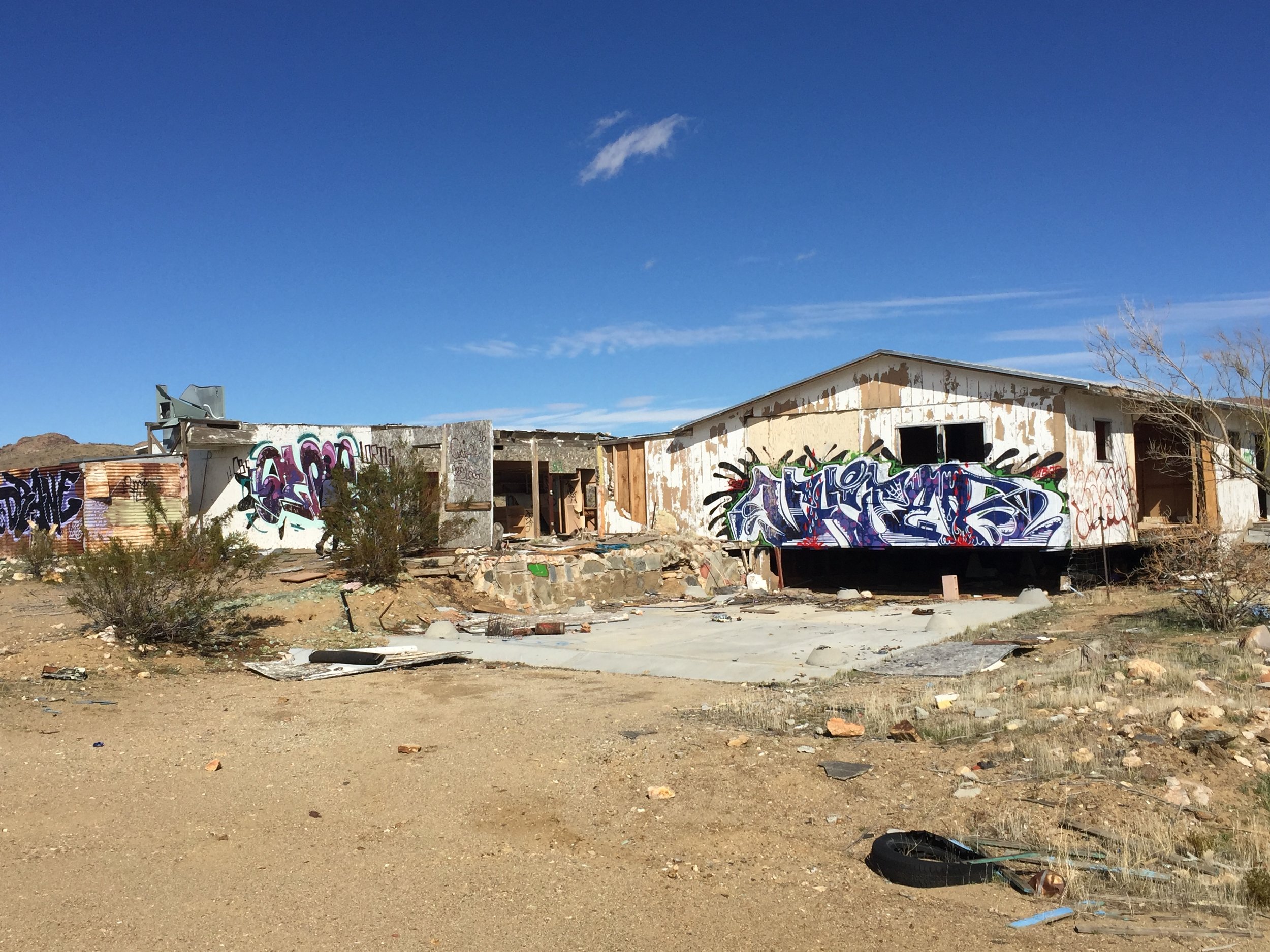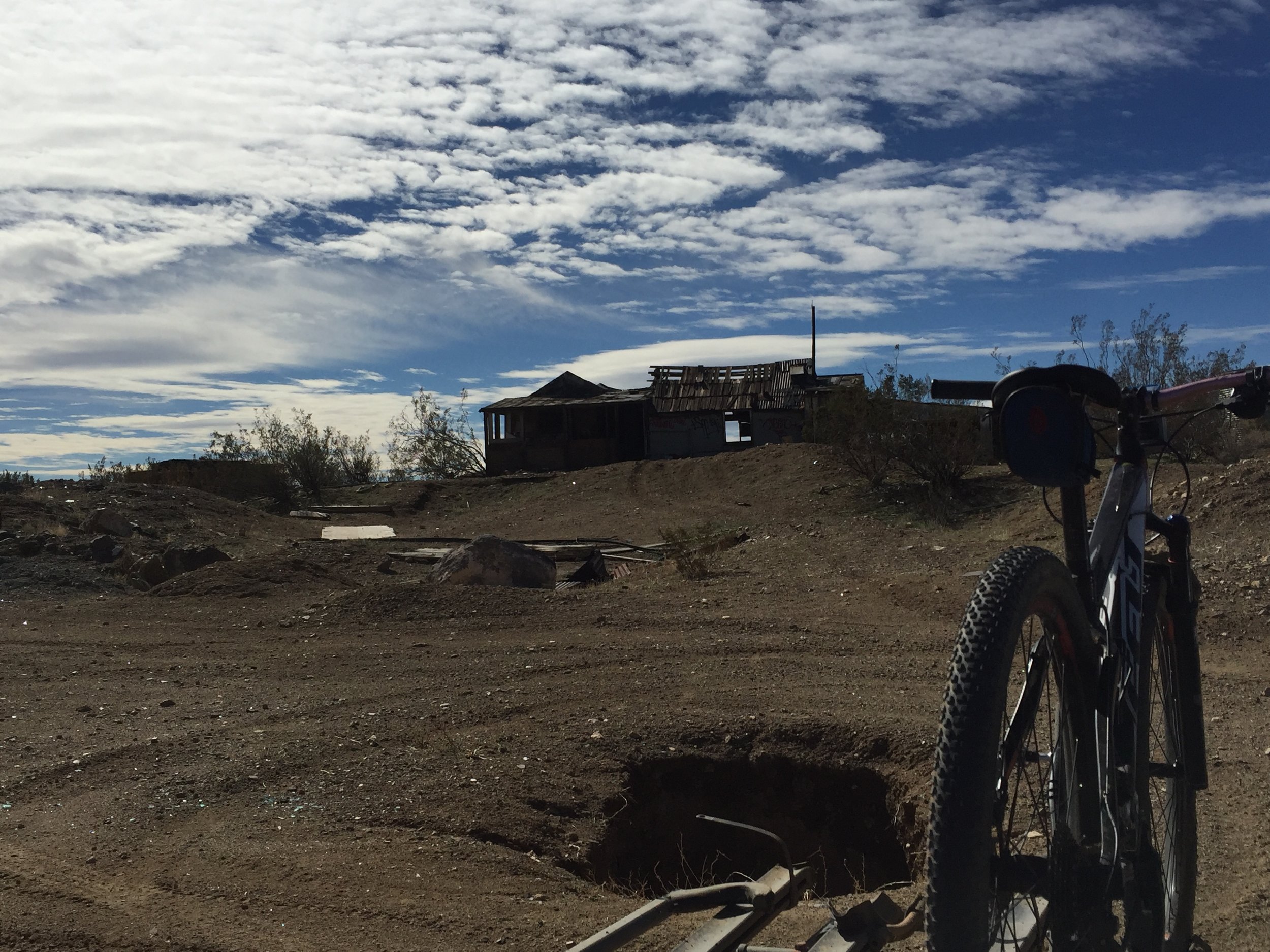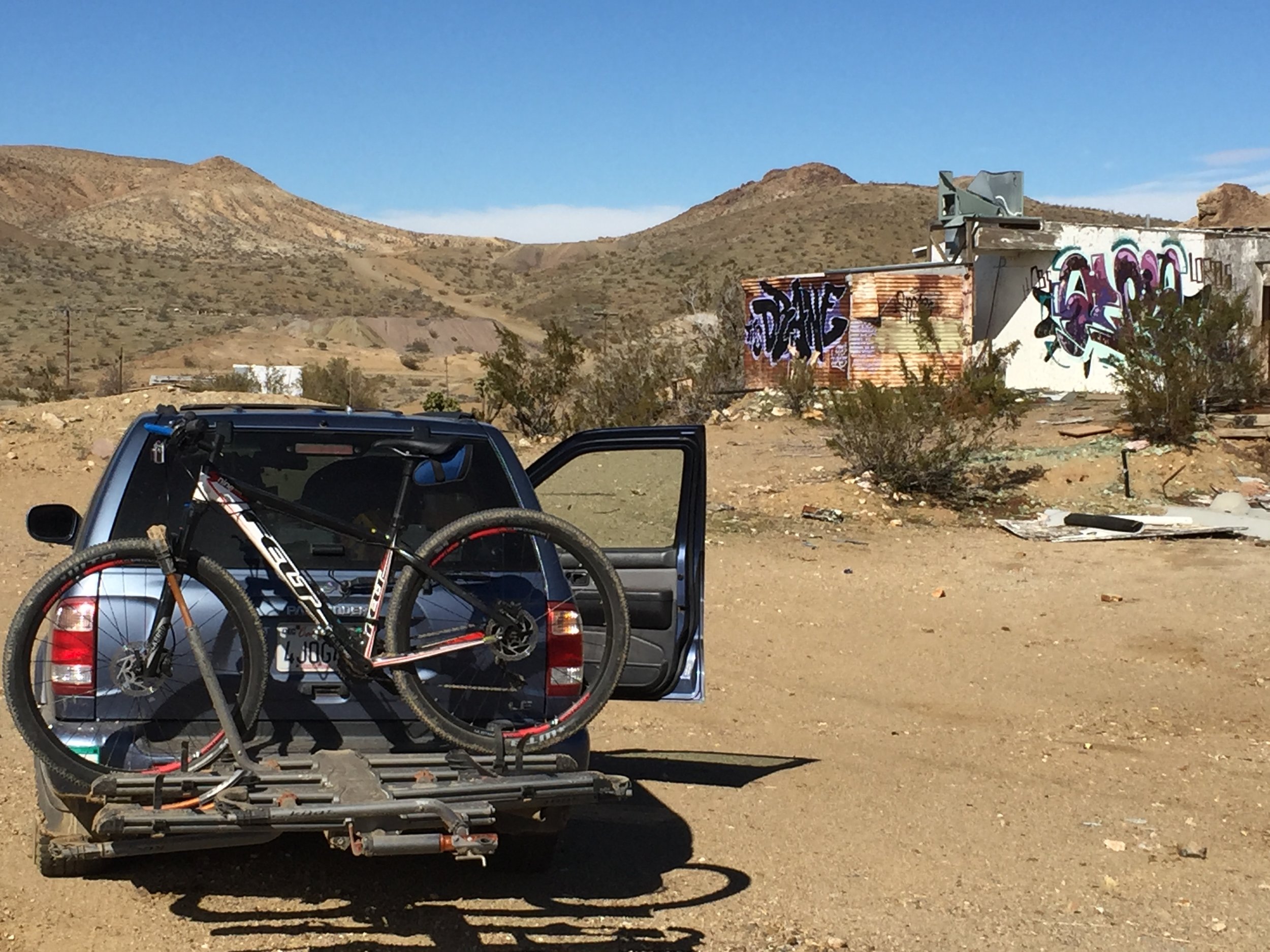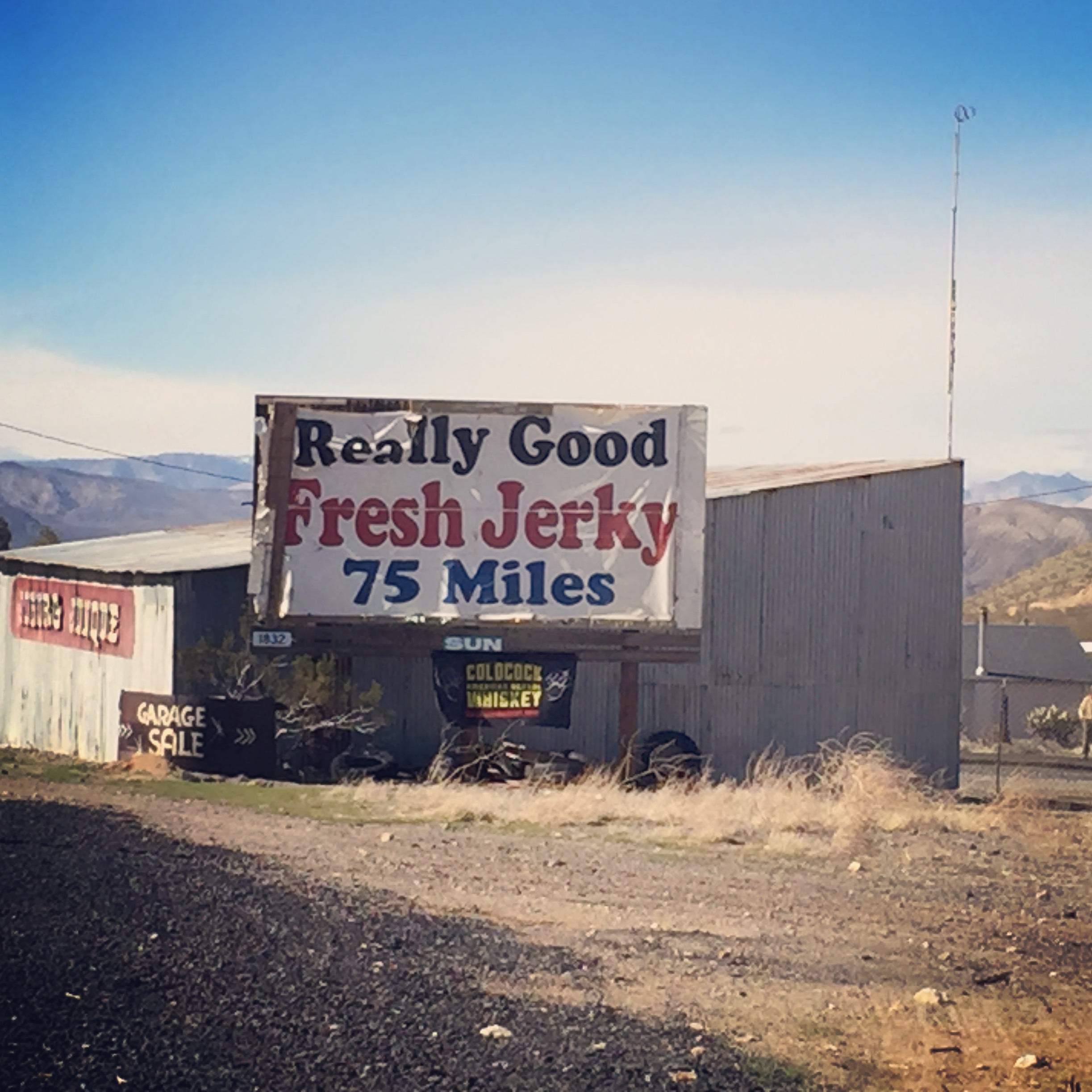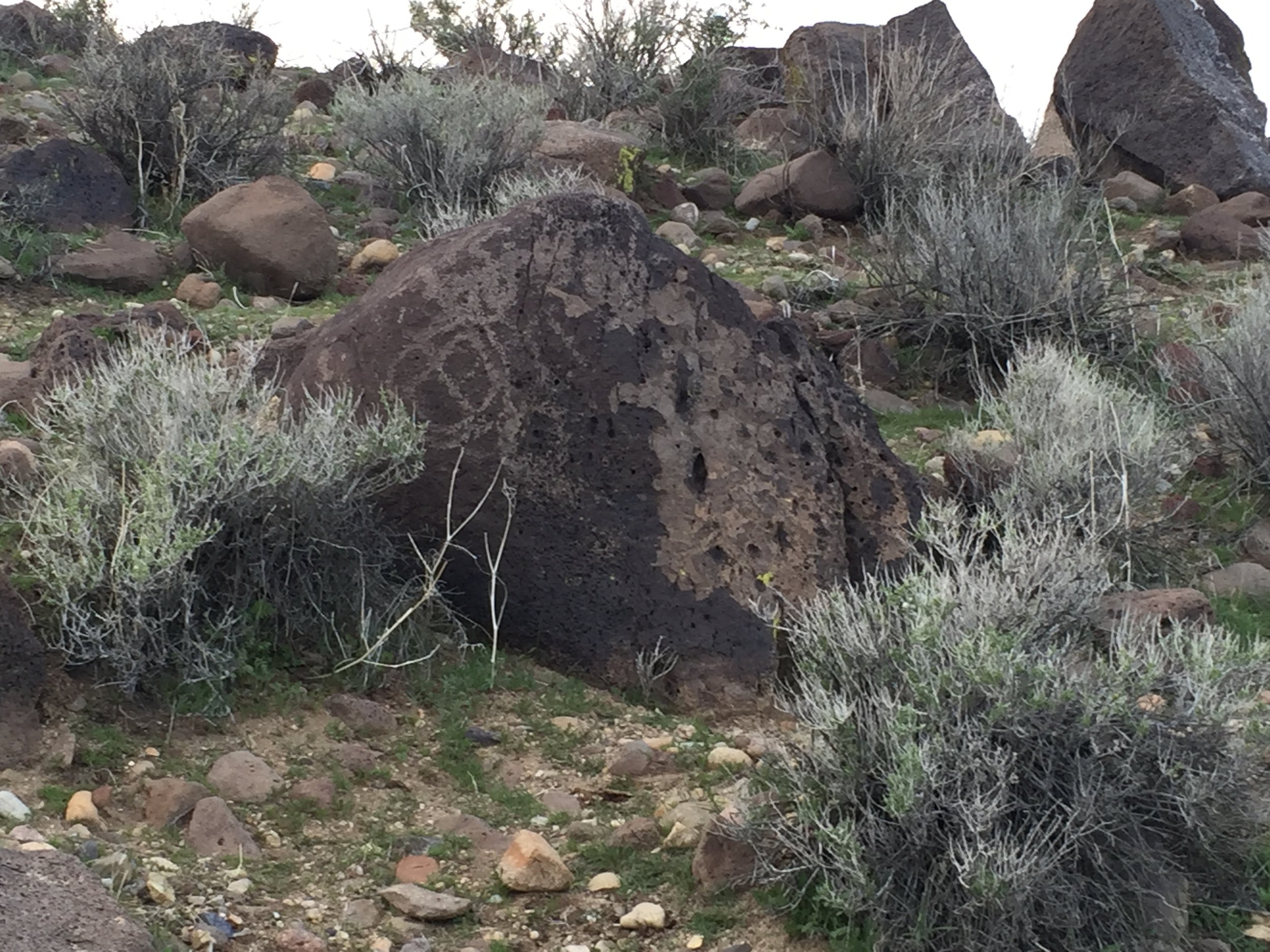 Day 3 - "Where we're going, we won't need helmets" - Ridgecrest to Barstow
I made the executive decision not to ride day 3. The knee was still hurting, and I wanted to be able to complete the trip, so Murphy was kind enough to give me a safari in the truck for the entire day. While I was down on myself for not riding, nobody else was. They were super supportive and just wanted me to be able to get back to riding ASAP to enjoy the amazing adventure. Day 3 started with a truck transfer to Trona Pinnacles, what I imagine Mars' landscape looks like... or at least something out of the Calvin and Hobbes "Spaceman Spiff" comics. That day started with a long and beautiful dirt road down to our first "dry lake bed." Again, because of the rain, things weren't always as expected, and some of the dry lake bed wasn't so dry. Even in the truck, after our snack stop we had to cut very wide around the lake bed to get to a brutal sandy climb up to the lunch stop. The riders were absolute troopers, and I have no idea how I would have gotten through it. Lunch stop was at the top of the climb, and then the following descent looked like super fun. The sandy road had nearly constant brake bumps, essentially making it miles and miles of pump track. Then the landscape changed and we got to Inscription Canyon, Opal mountain, and a long super fun-looking gradual descent. As the sun started go down, we gathered the riders to try to catch a glimpse of Rainbow Basin. It was already getting dark when we arrived, but points for effort. We rode in the truck together to our 3rd night accommodations in Barstow, where we enjoyed some Mexican food and sleep. Also there were a ton of kittens. Day 3 casualties included Jen's derailleur hanger, when the strong winds blew over our repair stand. We also saw the demise of Michael's rear wheel, after not being secured tightly to the rack and bouncing around a few too many desert roads. Thankfully there was one bike to spare since Pau took a day off, so Michael got a full day of riding on Day 4.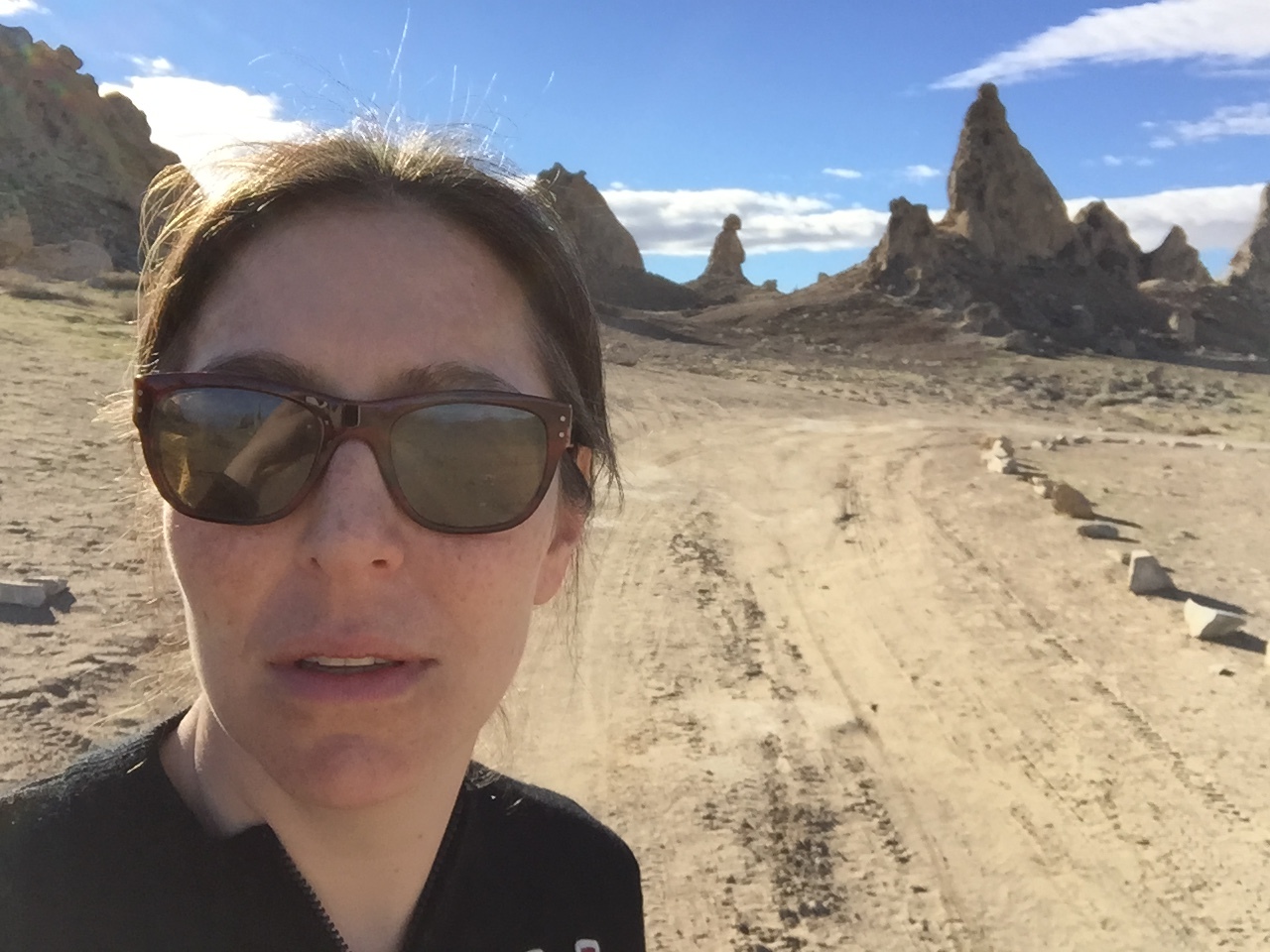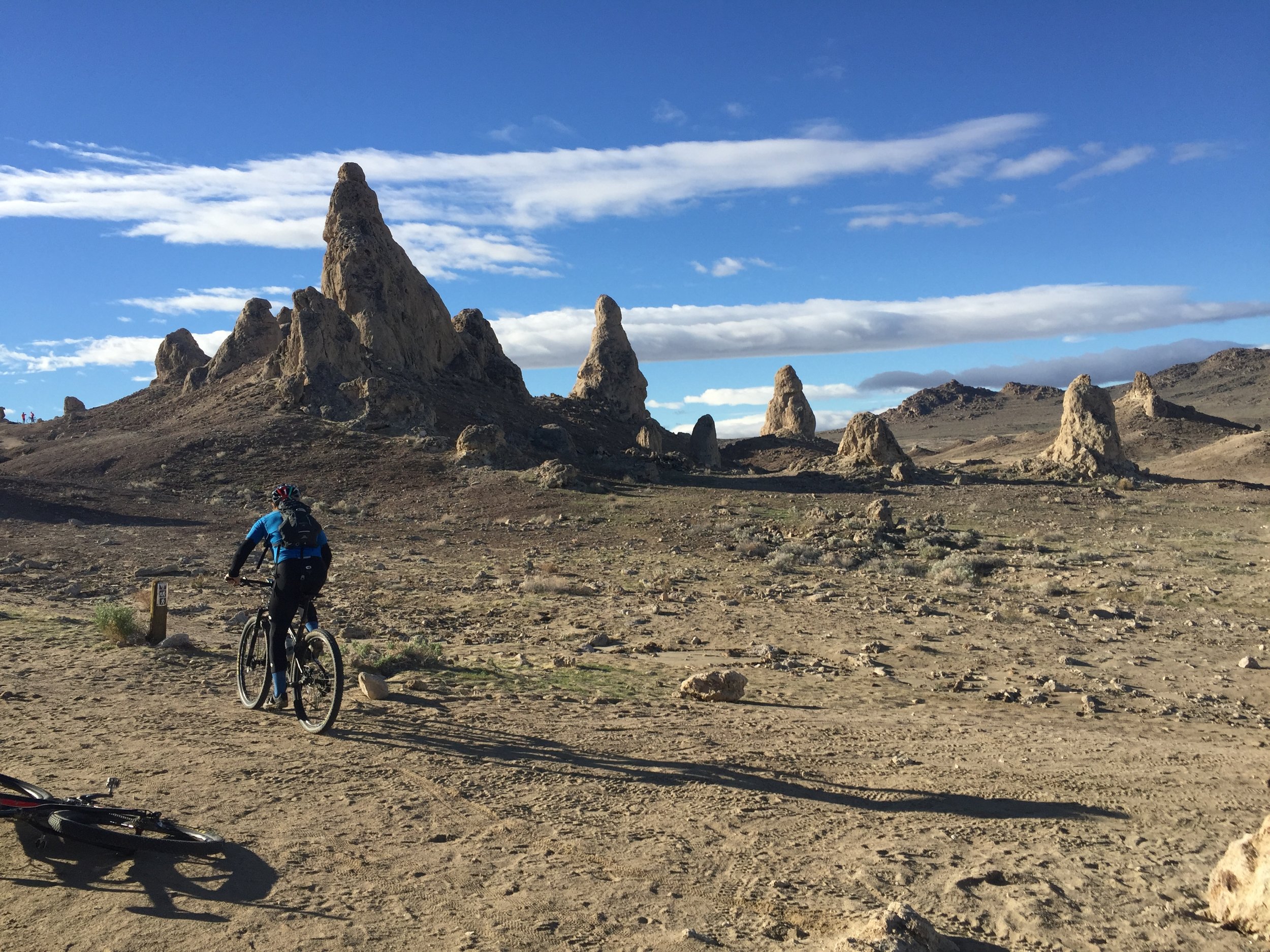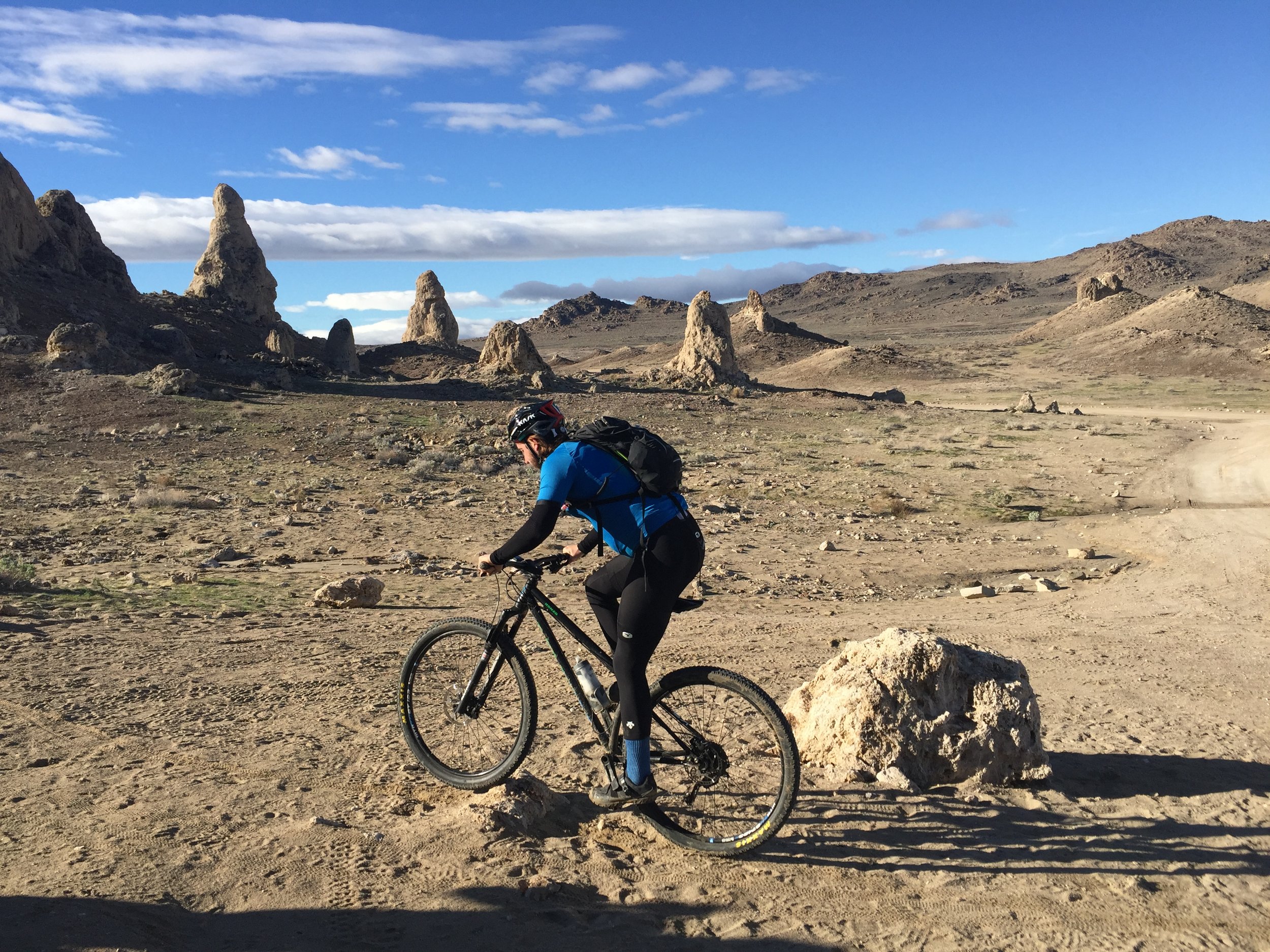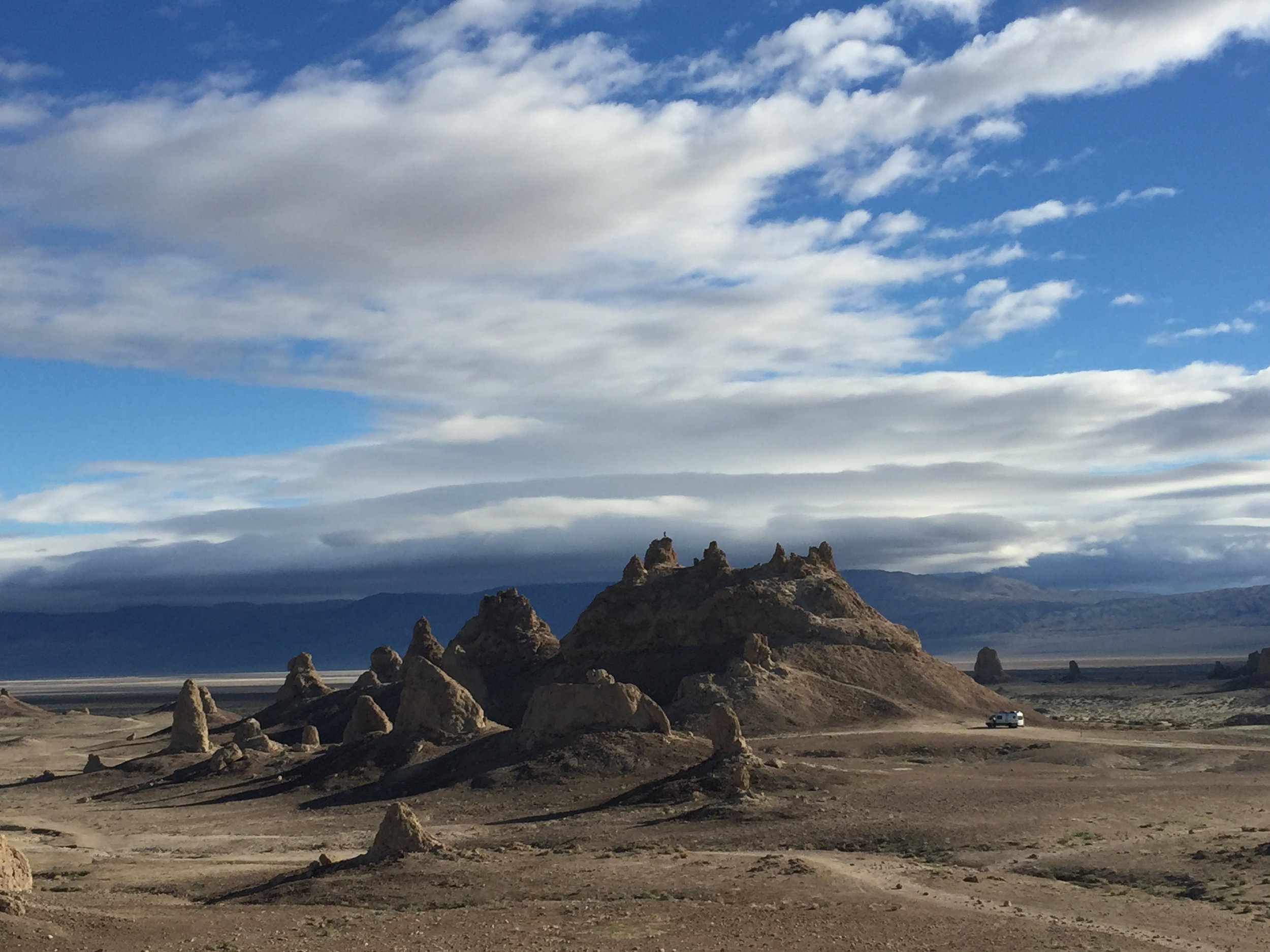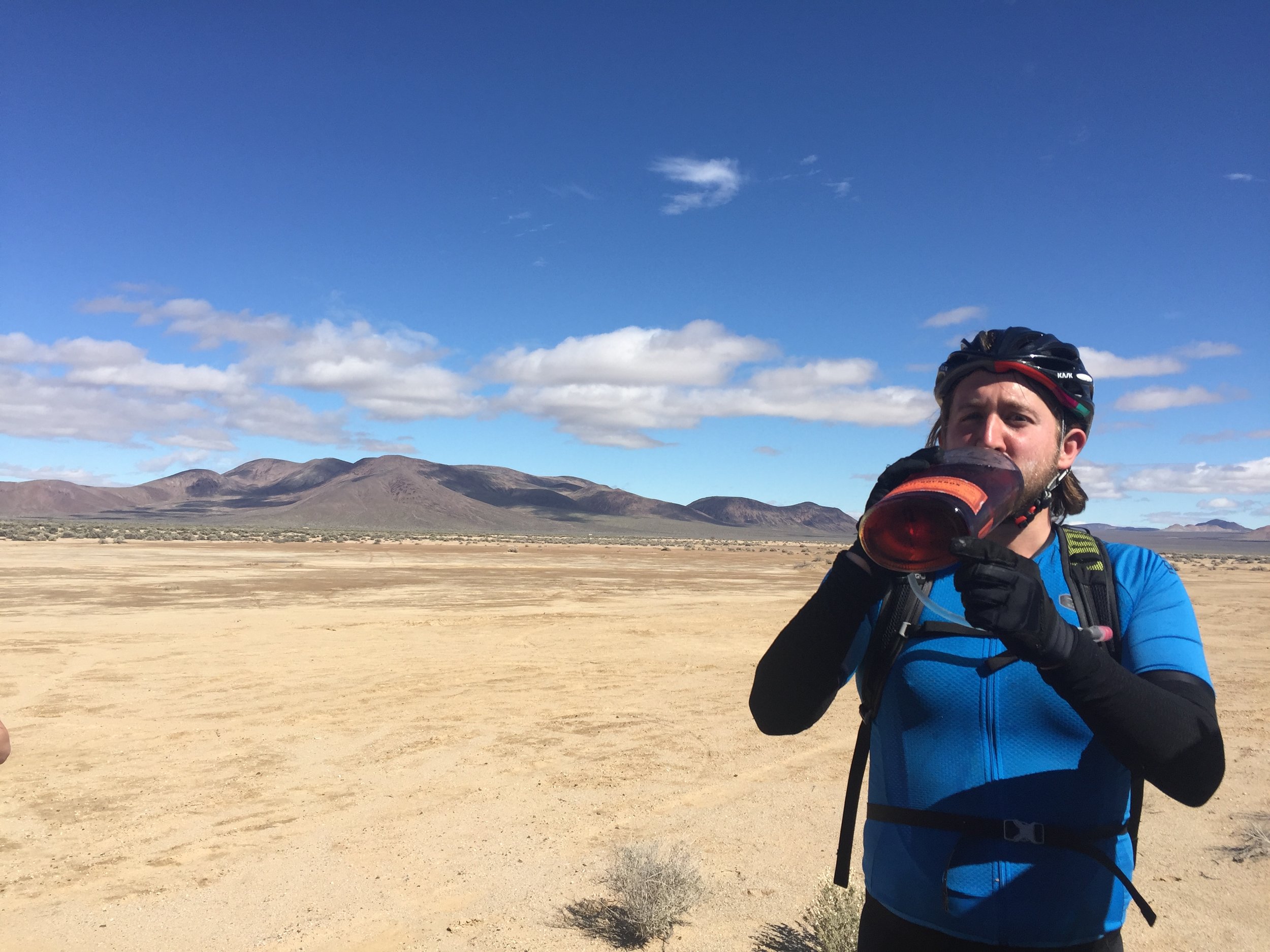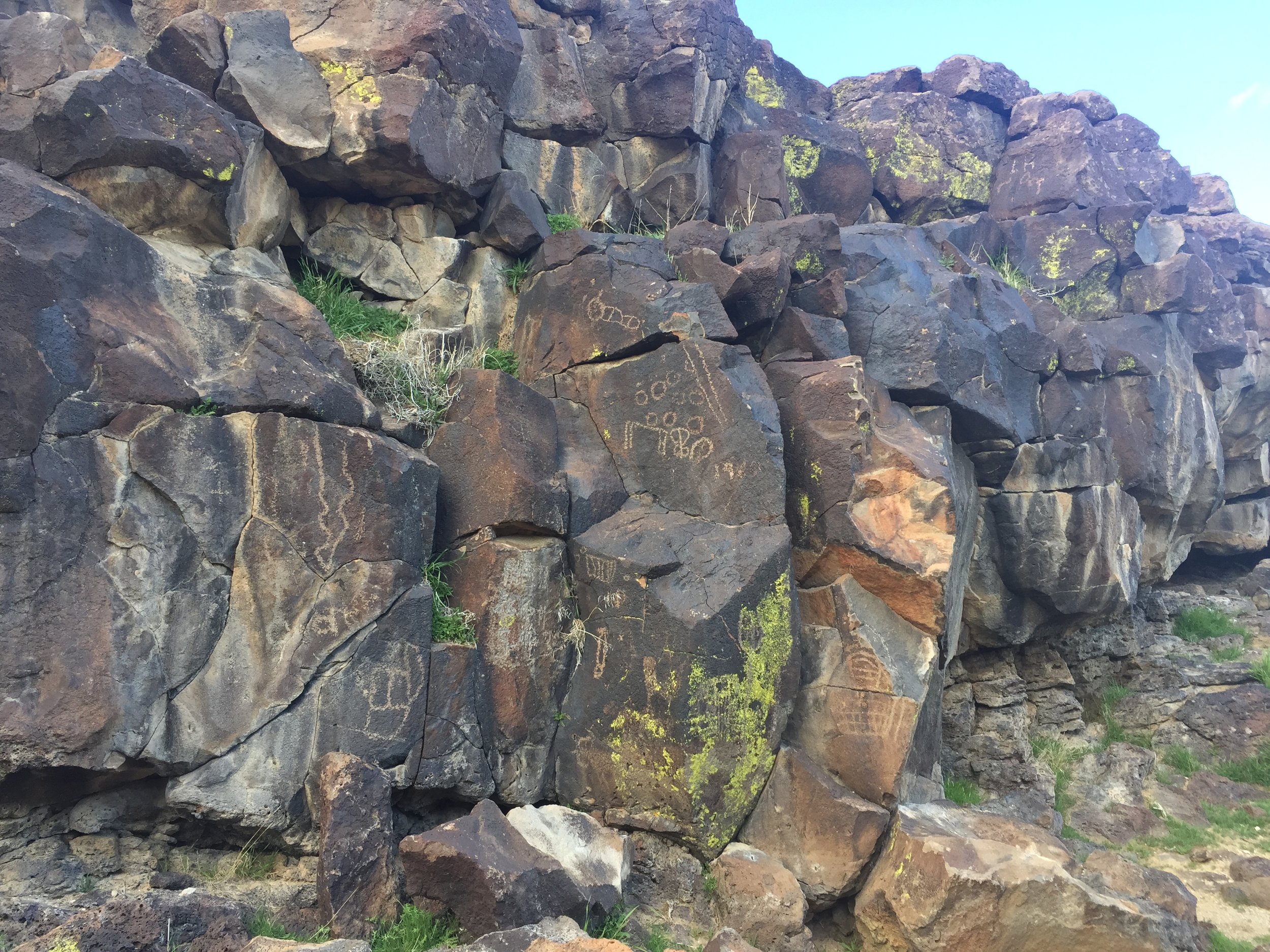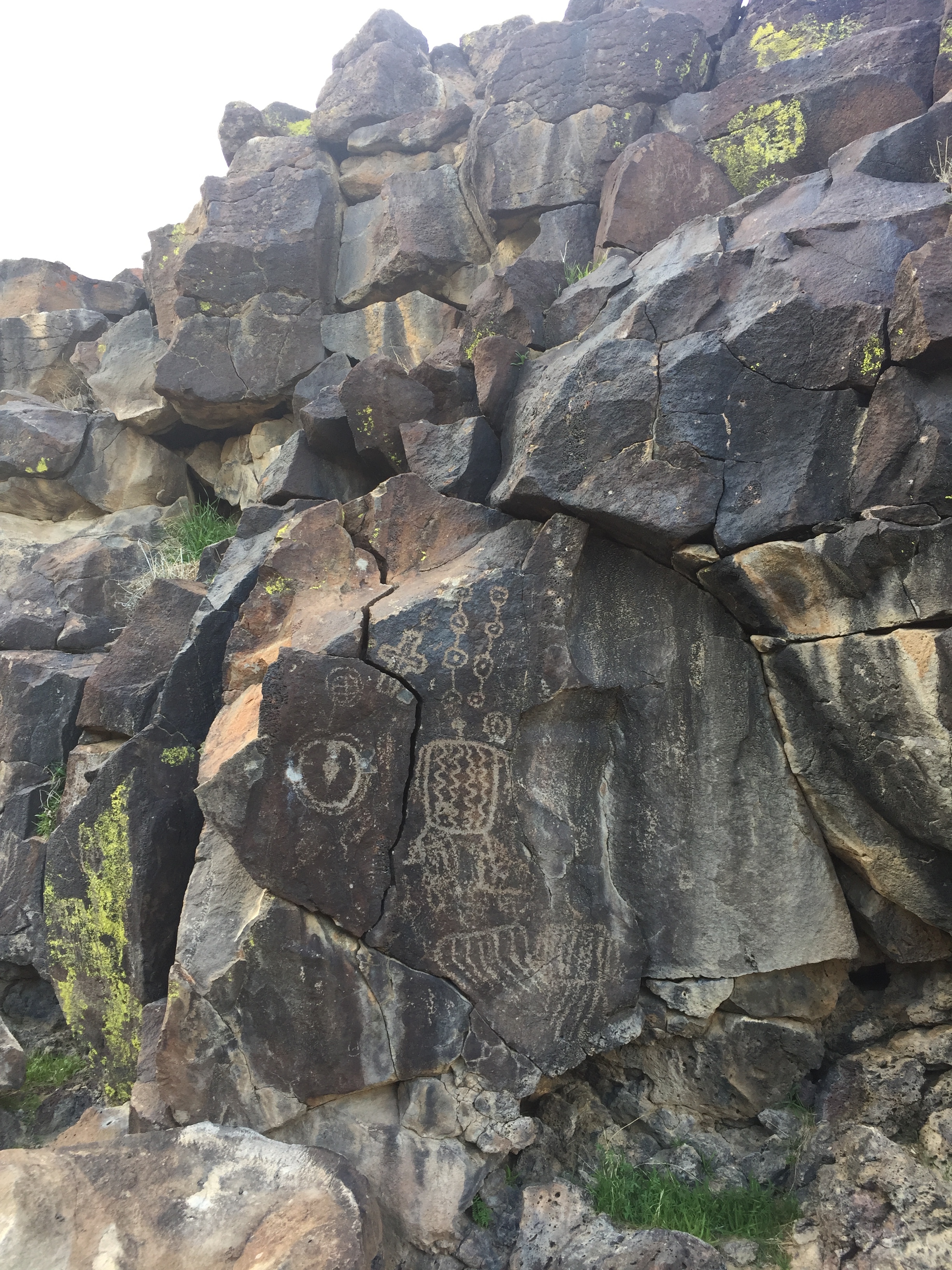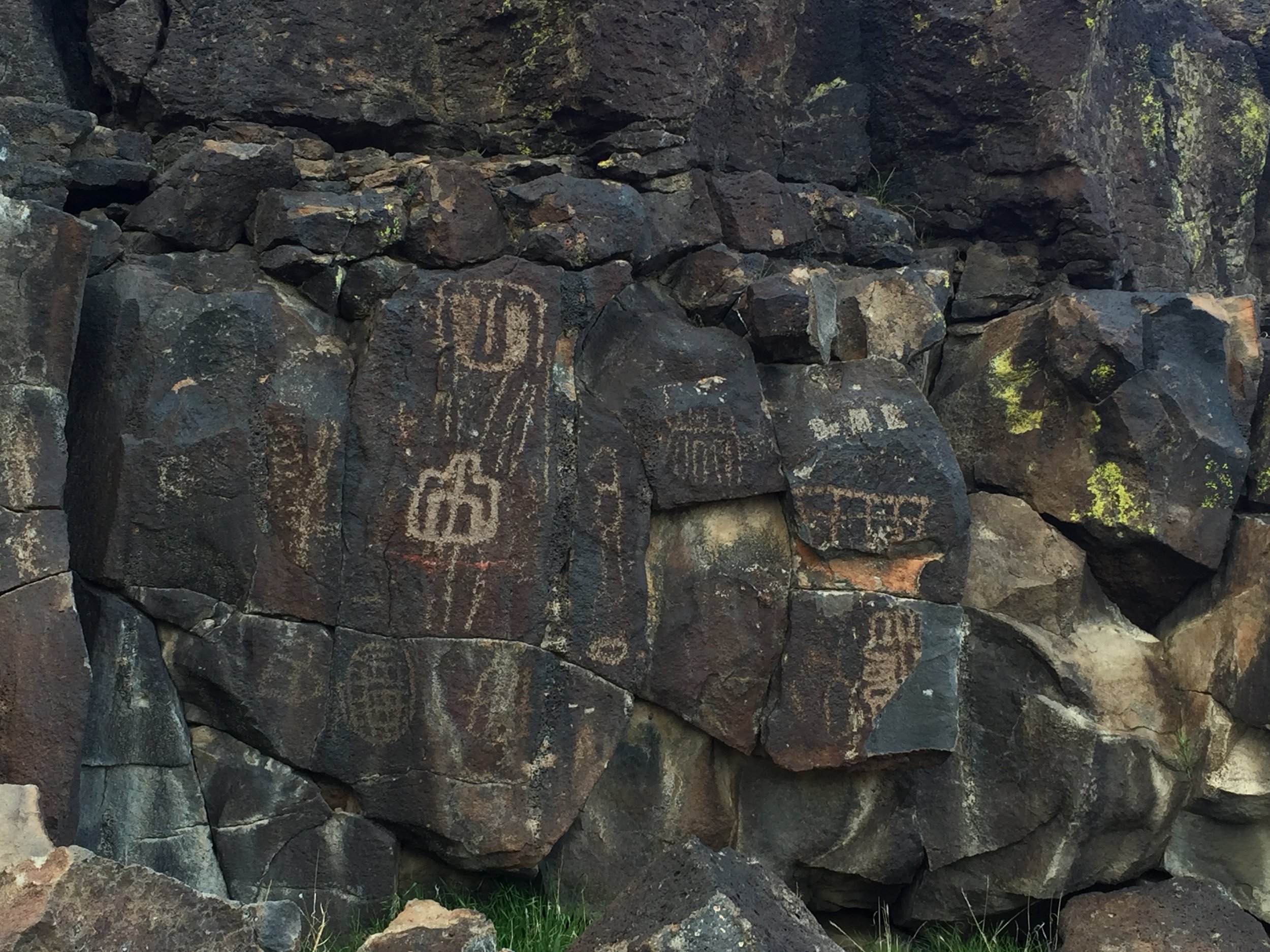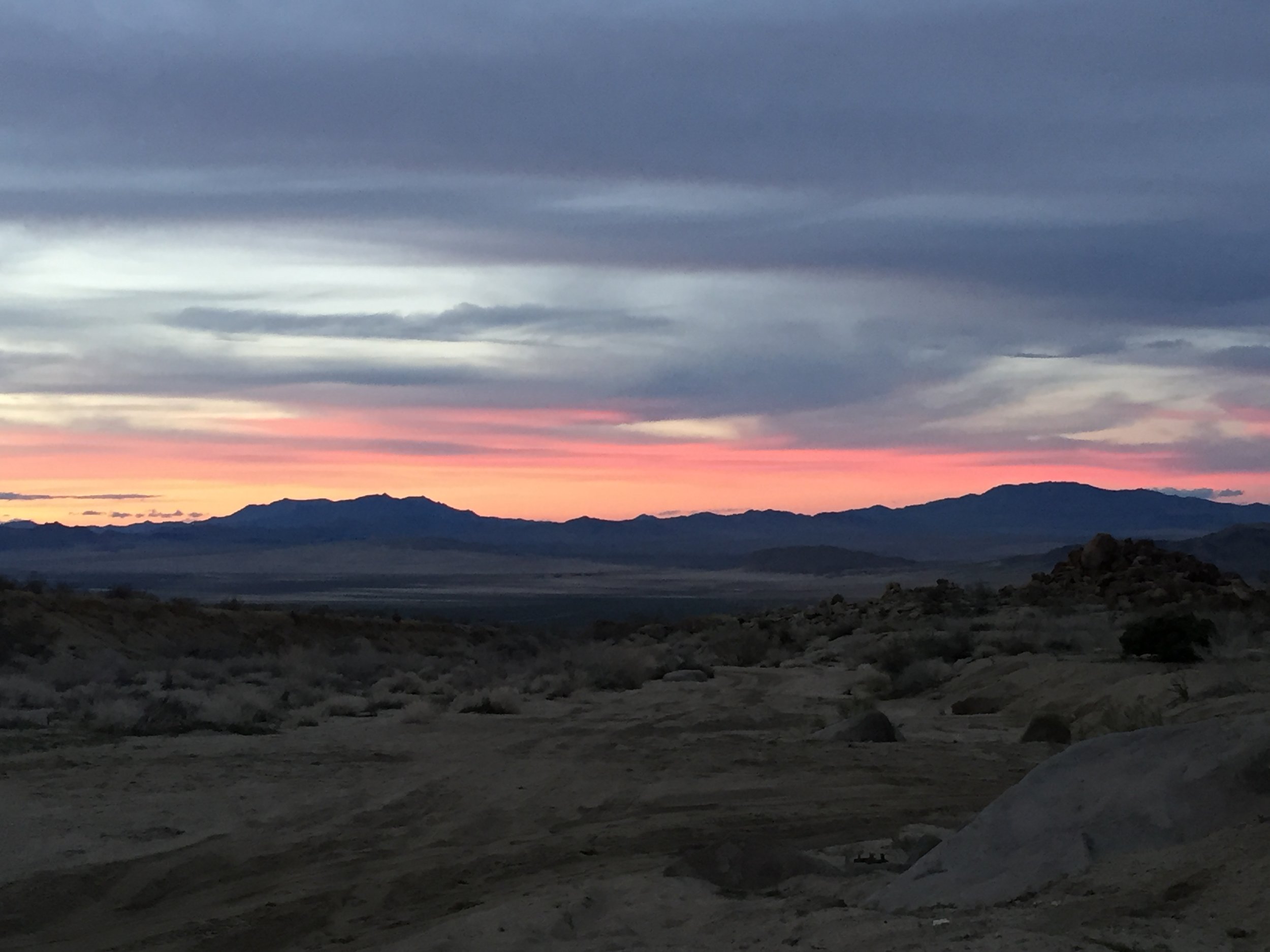 After a day off in an effort to let my knee settle down, it was time to get back in the saddle. I wasn't super optimistic that my body would hold up, but I made a few decisions which I think helped me exceed my expectations by a lot. The day started with about a 15-mile climb on a quiet dirt road; Trevor gave me a lift to the top (the first snack stop), where I met up with Chris and Chris, and we rode from there. Rolling hills, and then another gradual climb which turned to a DEEP gravel road, unrideable even on a mountain bike. We hopped off the road and wound through creosote in the open desert for several miles until we got to the top, then got a gorgeous gradual descent with amazing views. There was another sandy road which apparently has been one of the deepest, sandiest sections of the whole tour, but was surprisingly rideable, again thanks to the previous week's rain. It was slippery, but riding sand for several days straight had taught me to just sit back and not to fear when my front wheel started to drift. The knee was feeling good and the landscape even better. We made it to our lunch stop for grilled cheese and beverages overlooking a dry (well, mostly dry) lake bed. We then rode up and down through gully after gully to get down to the lake bed, where we rode around in circles like little kids. Then a short climb to a bumpy, rocky road, and we made it to King Clone, an 11,000+ year old creosote ring, where we could all ponder our tiny little existences. Wild. At that point, I decided to give my knee a little break for the last few miles of the day. I was starting to feel it a bit after the sand, so I hopped in the truck for a Rhiannon Giddens singalong with Trevor. We went up to some more petroglyphs, a stunning sunset, and then enjoyed watching the riders tackle a downhill pump track, down to our 4th night hotel in Yucca Valley. Michael's new wheel showed up that night, so he could be back on his bike for day 5. Day 4 saw the near demise of one of Murphy's crank arms, which was secured with duct tape until it could be replaced on day 5.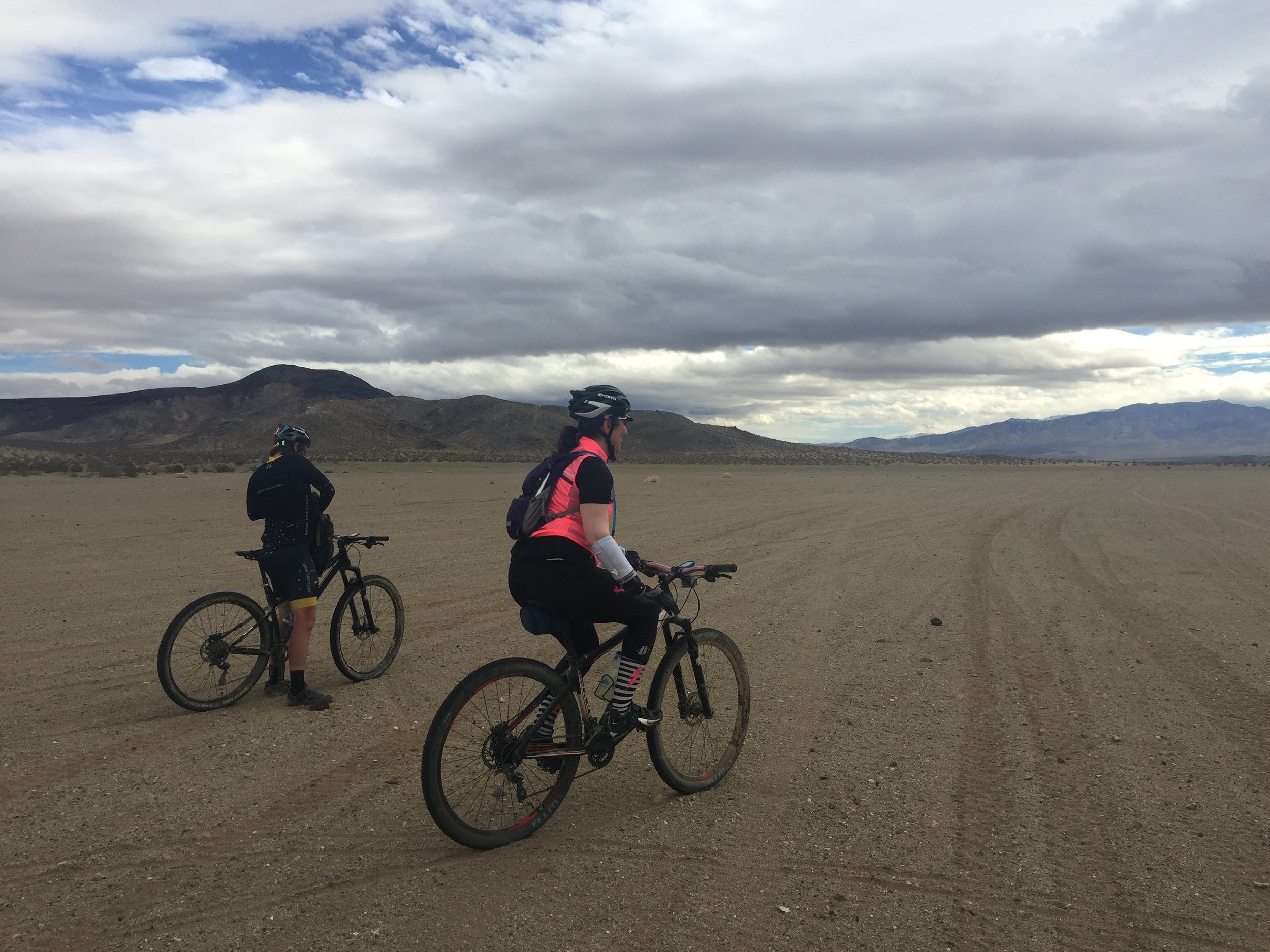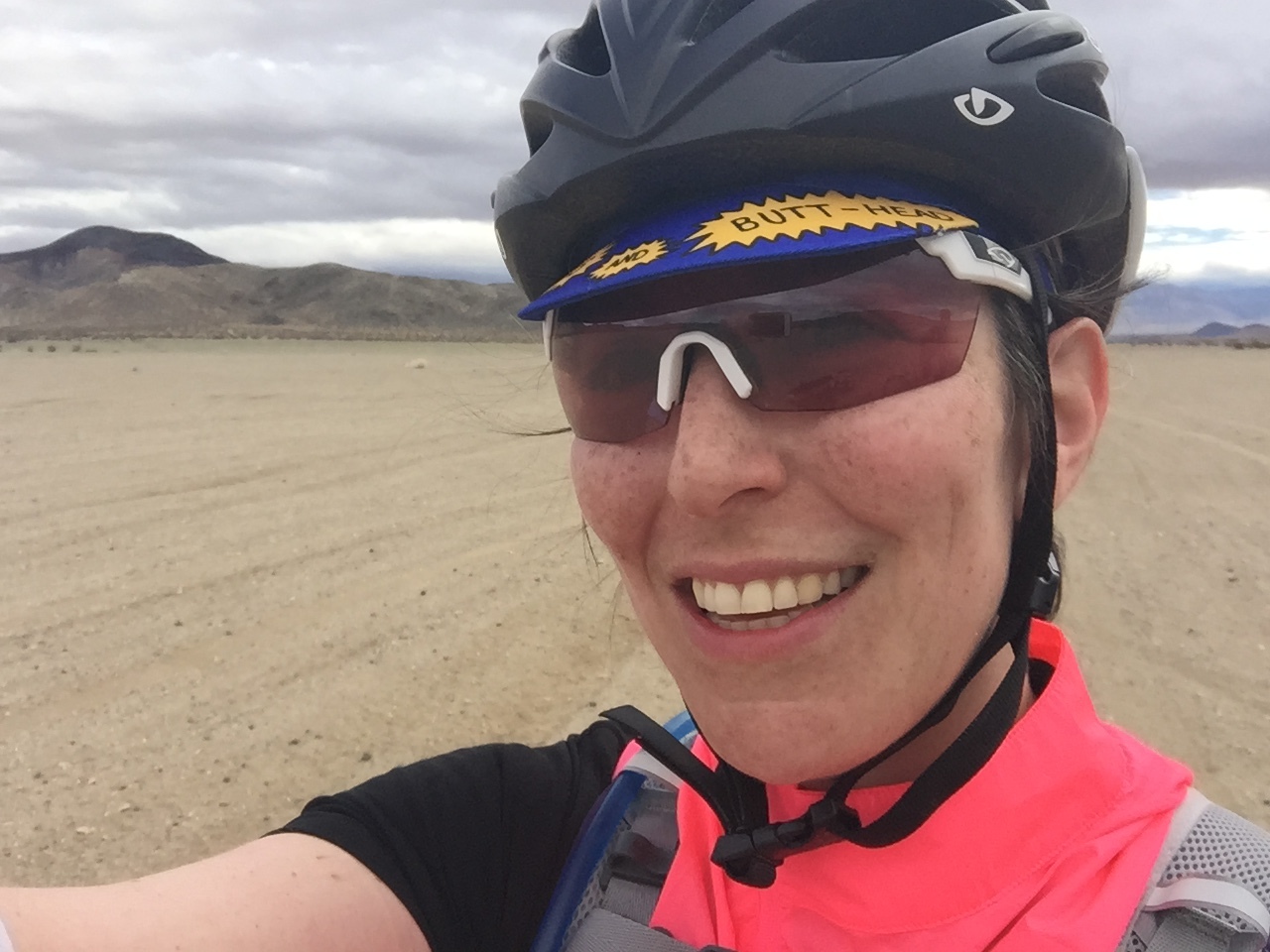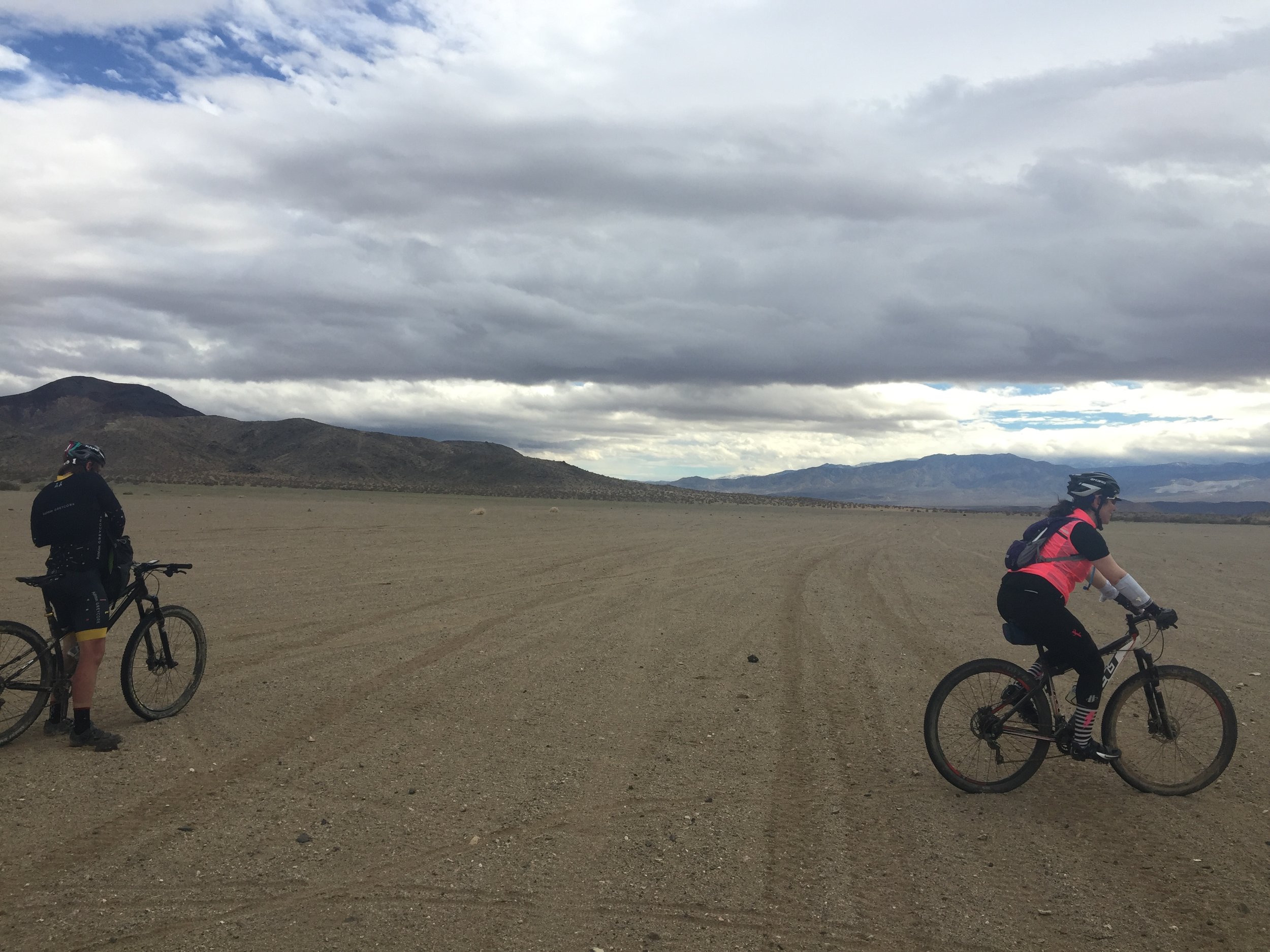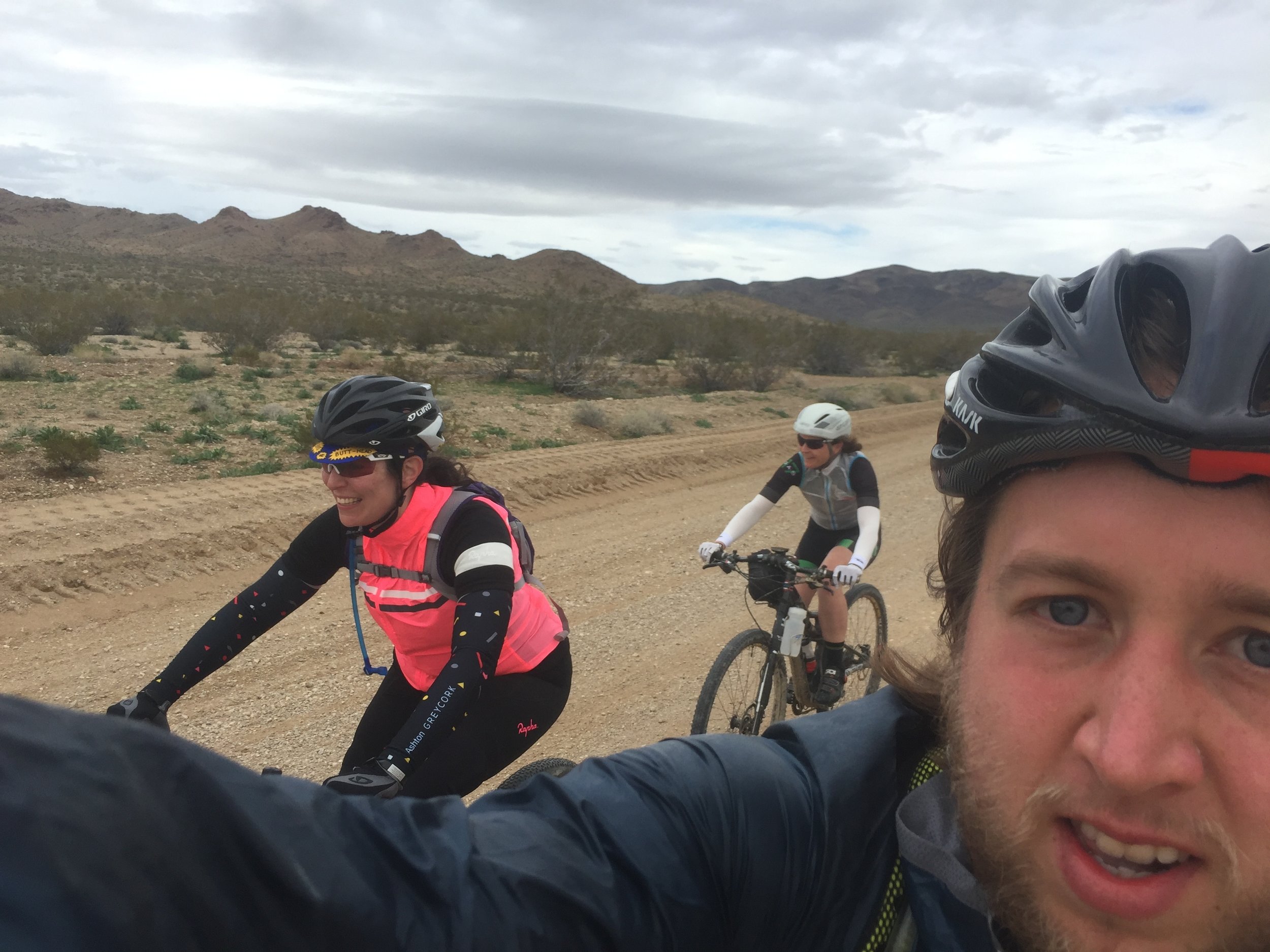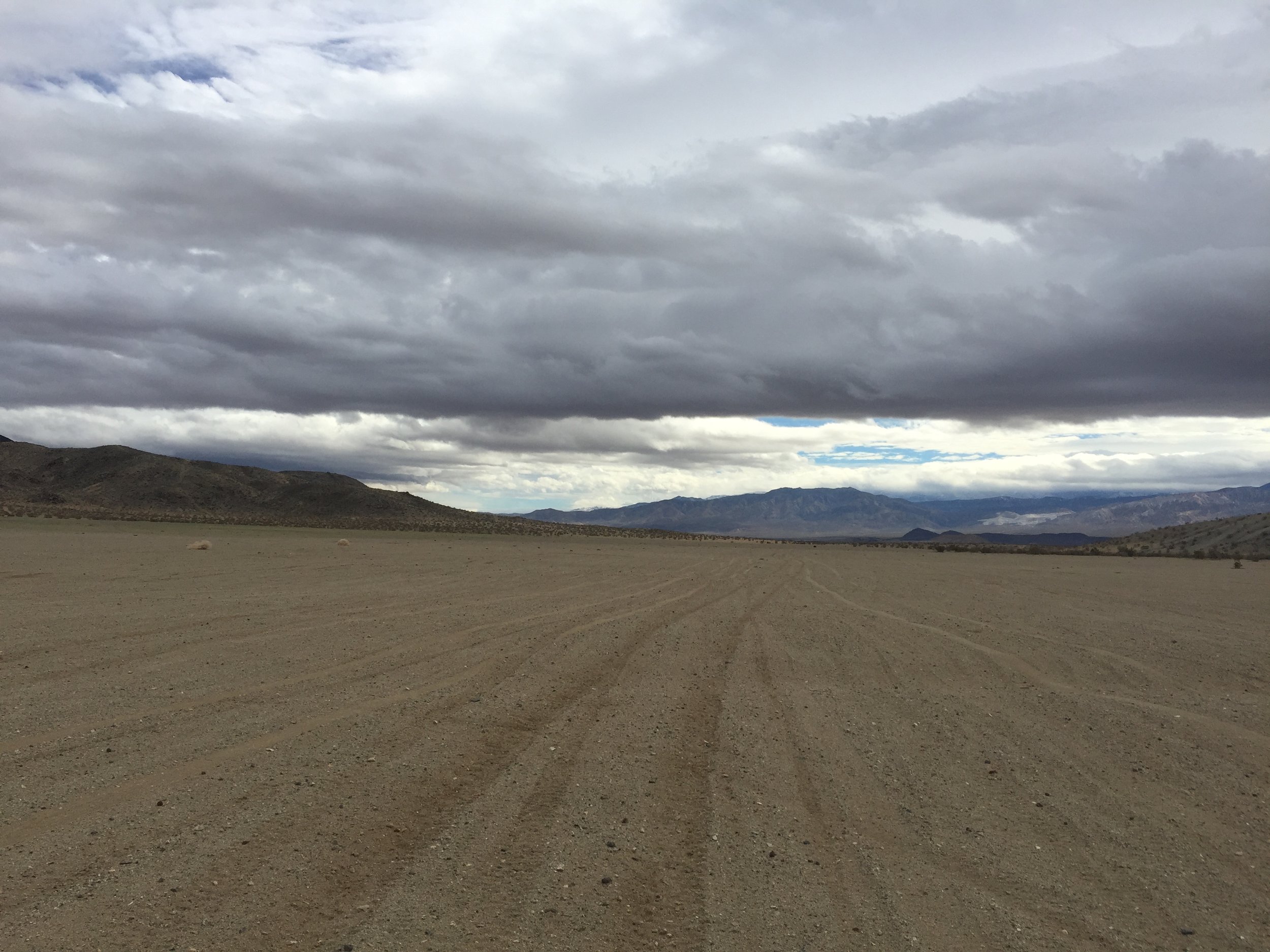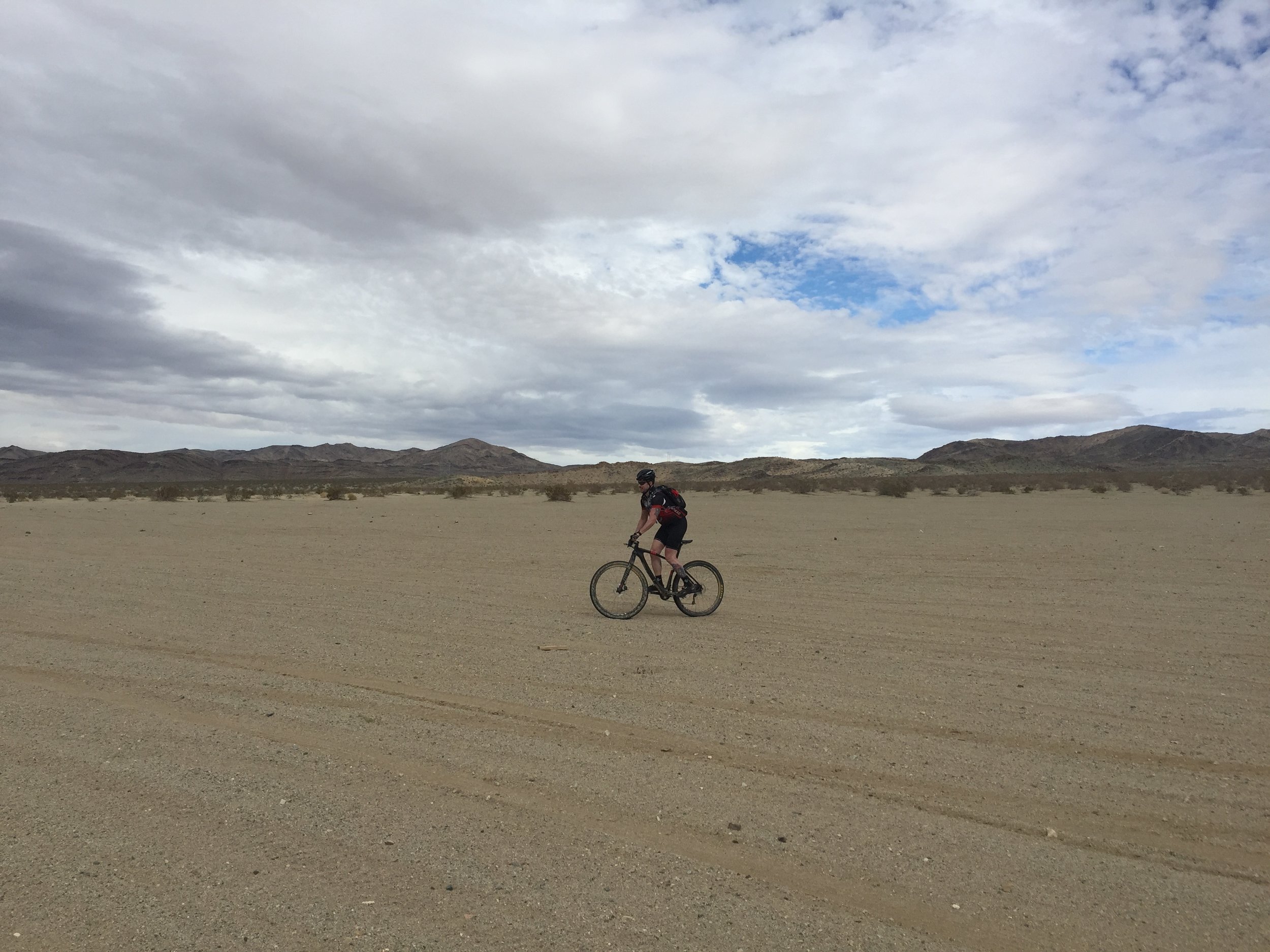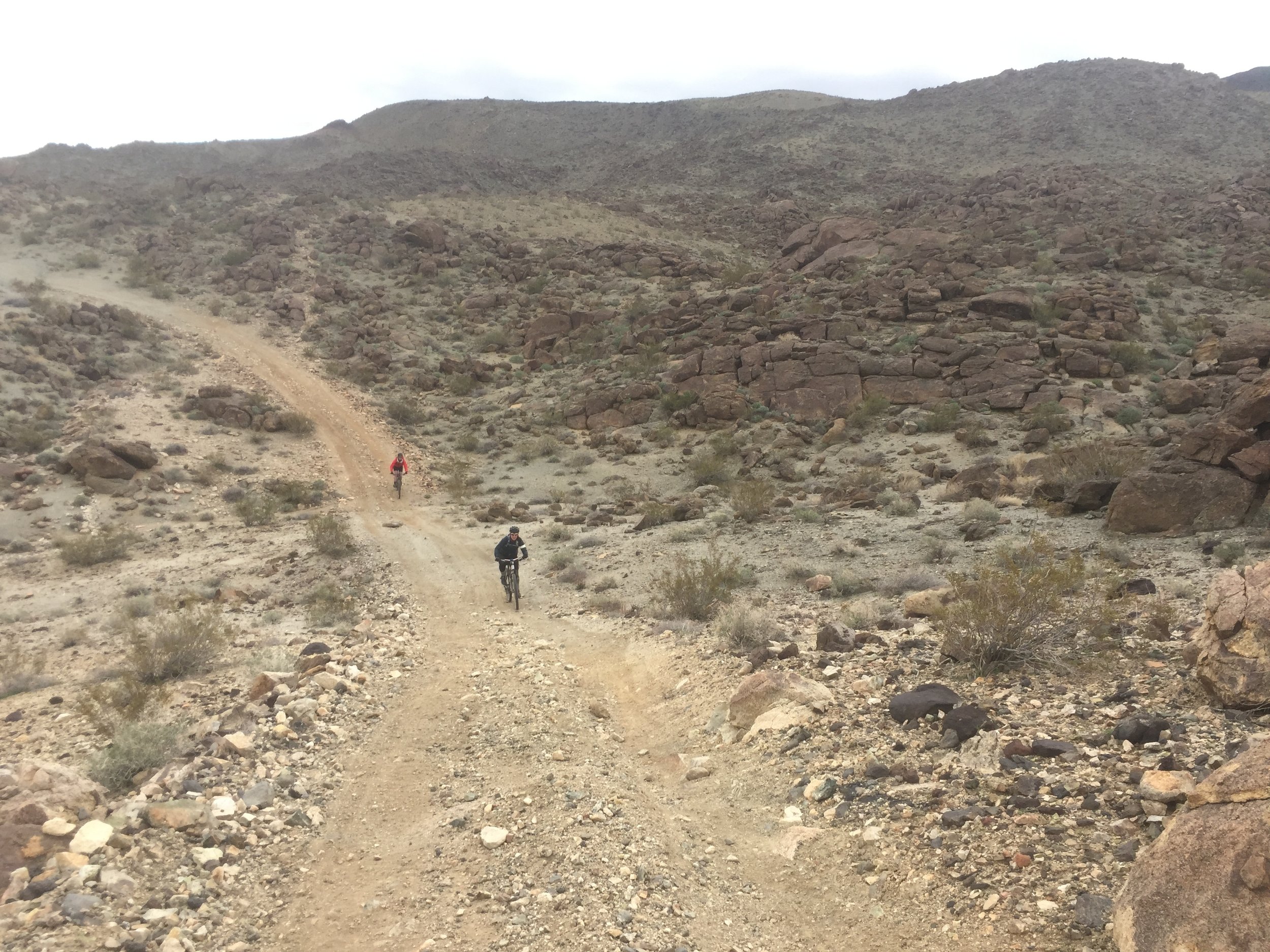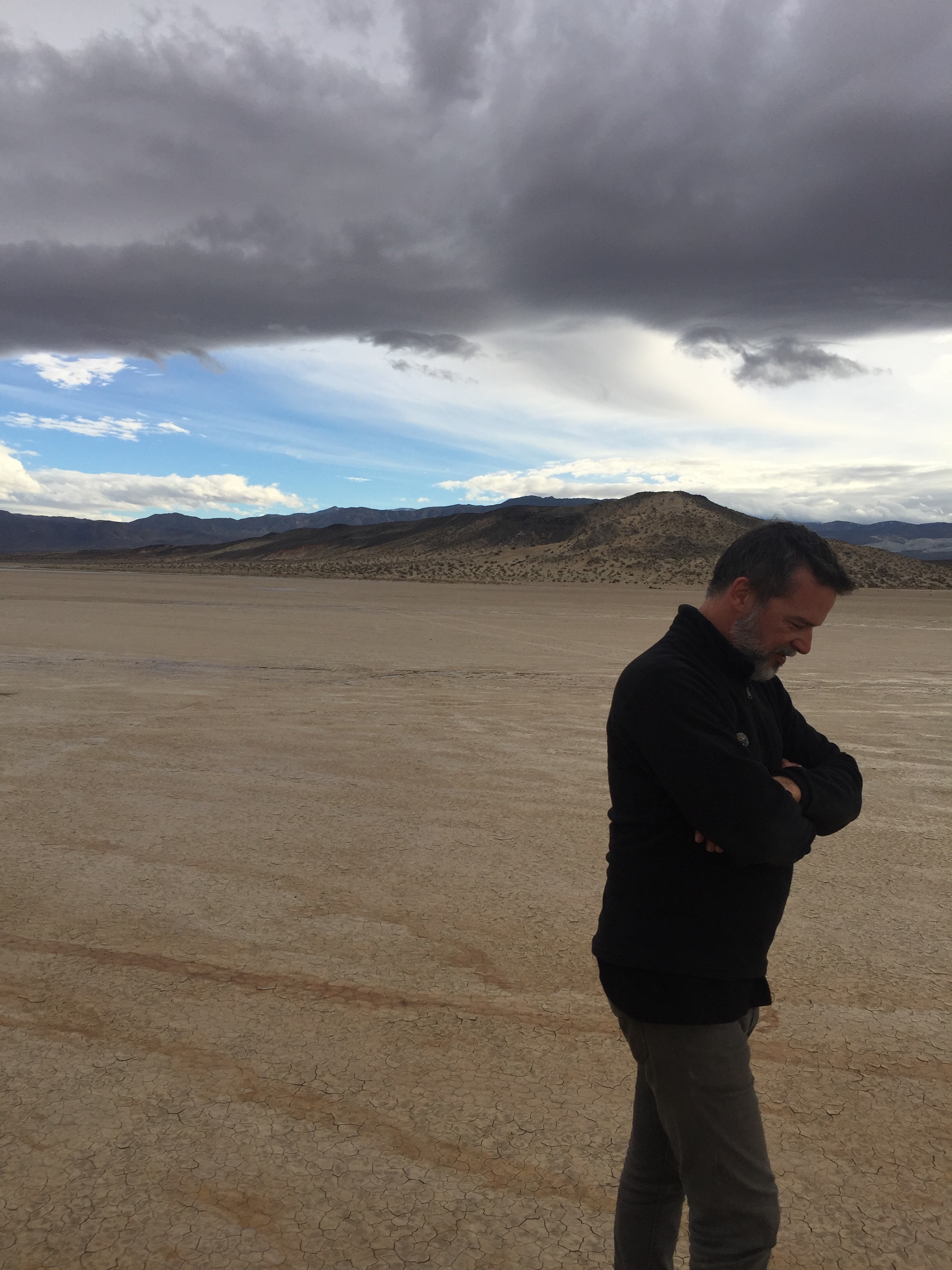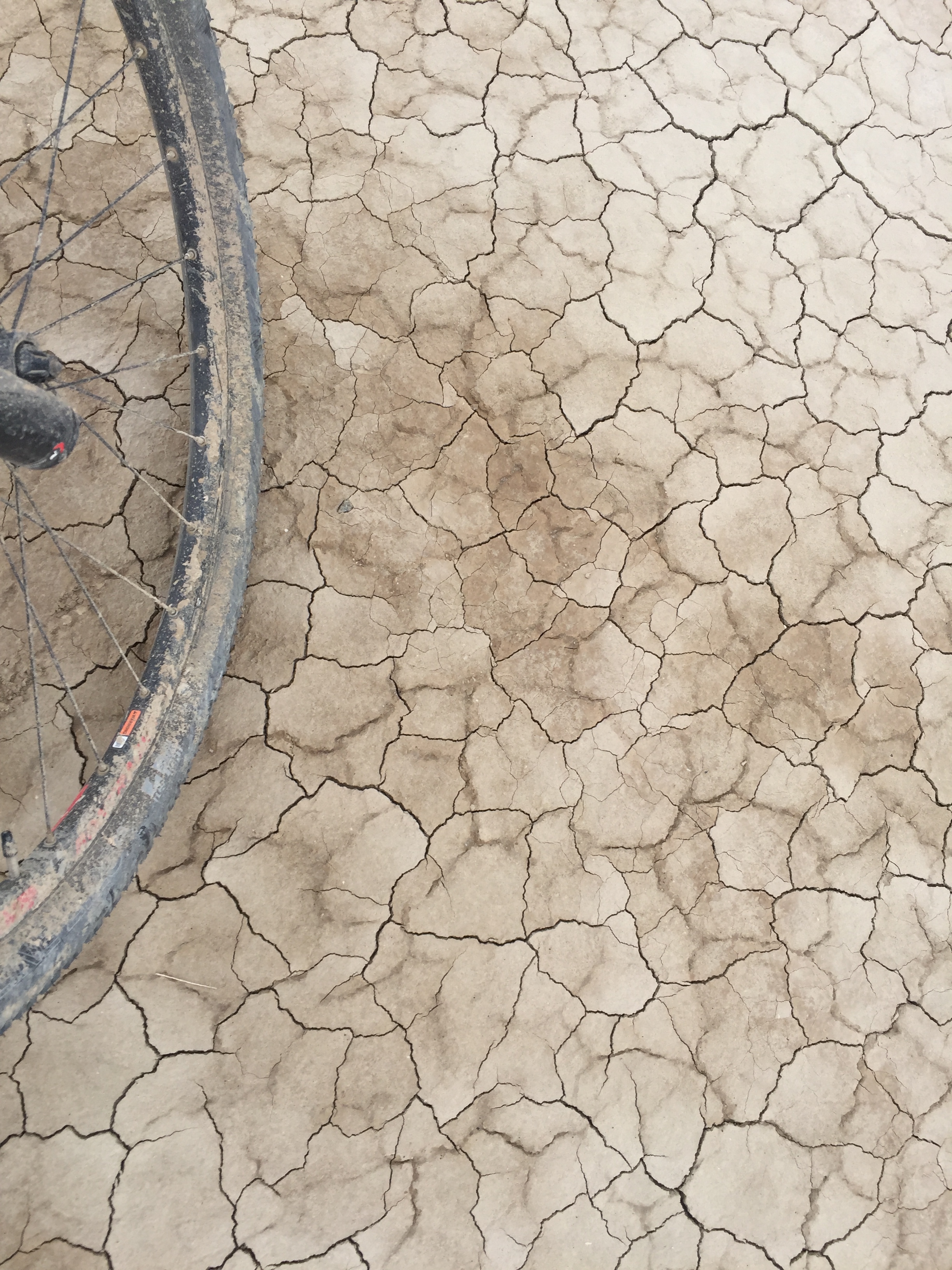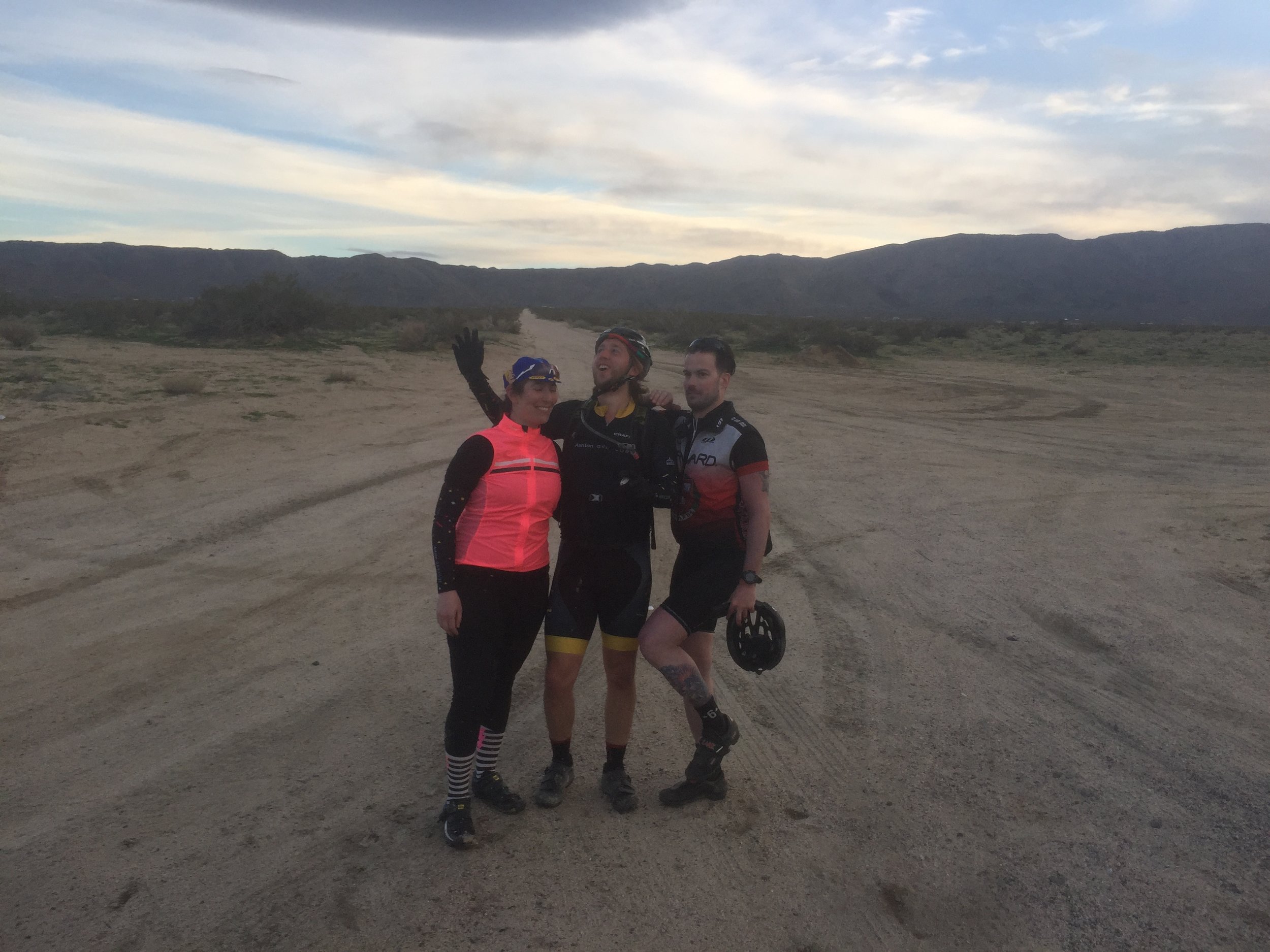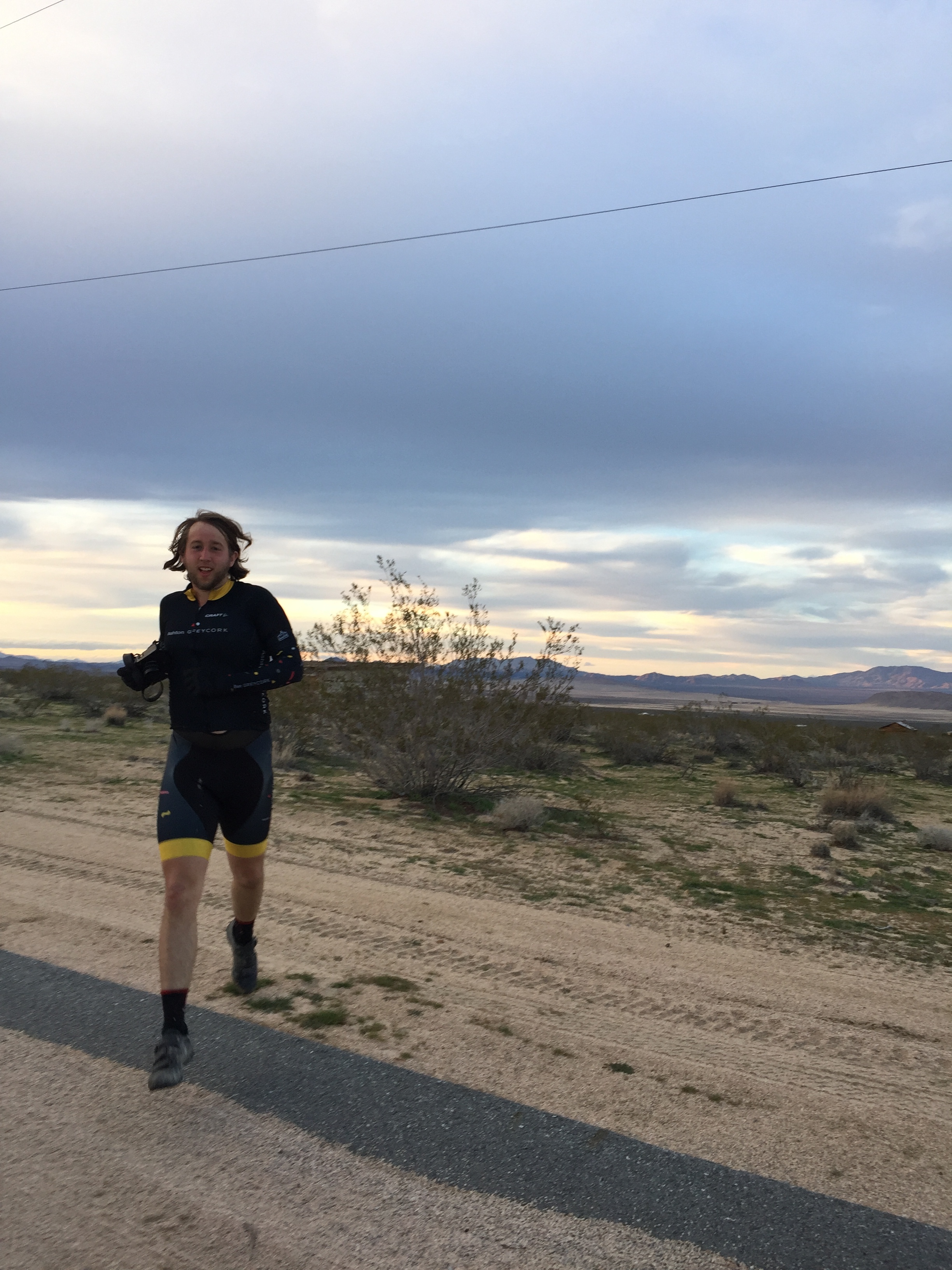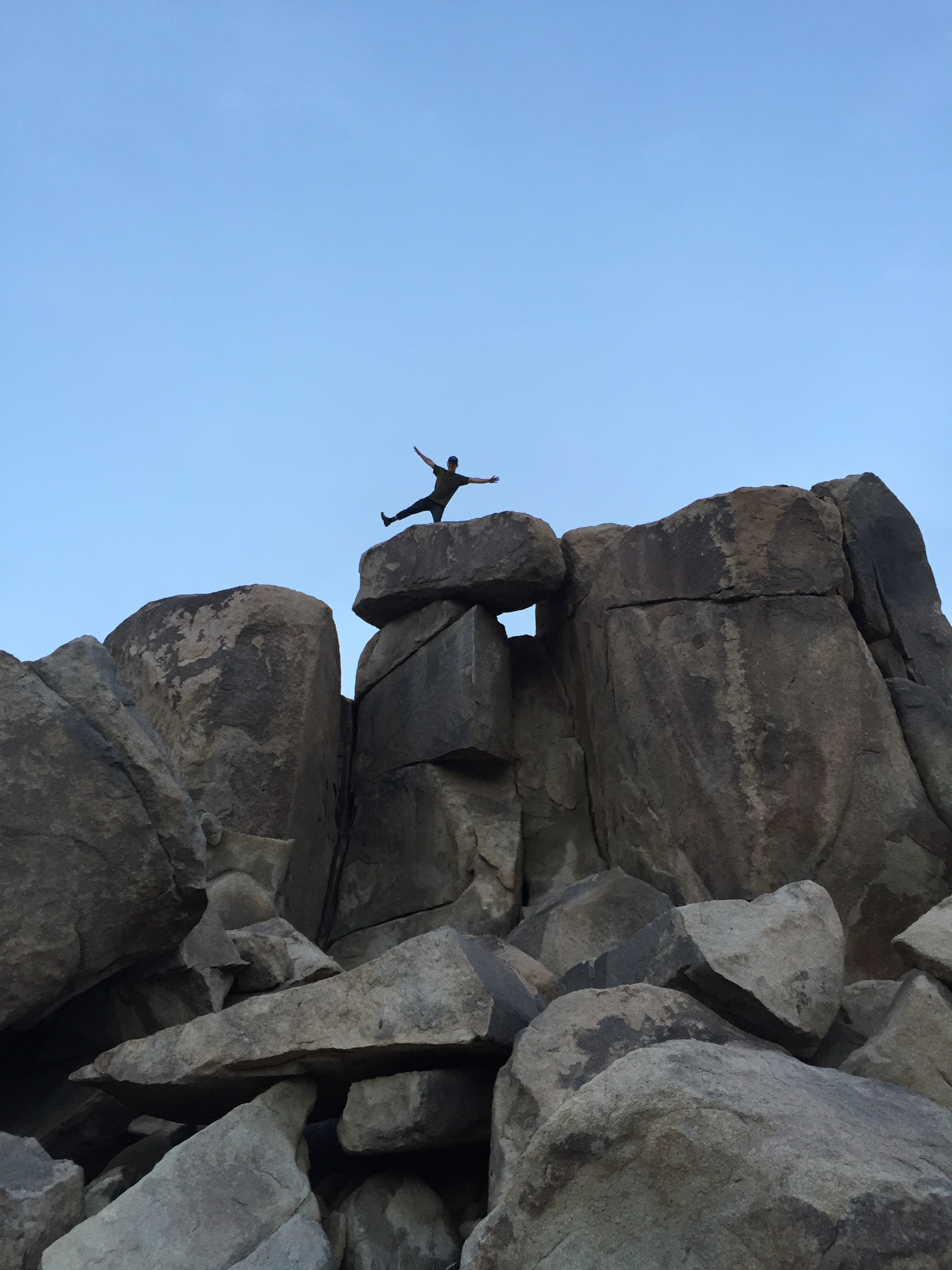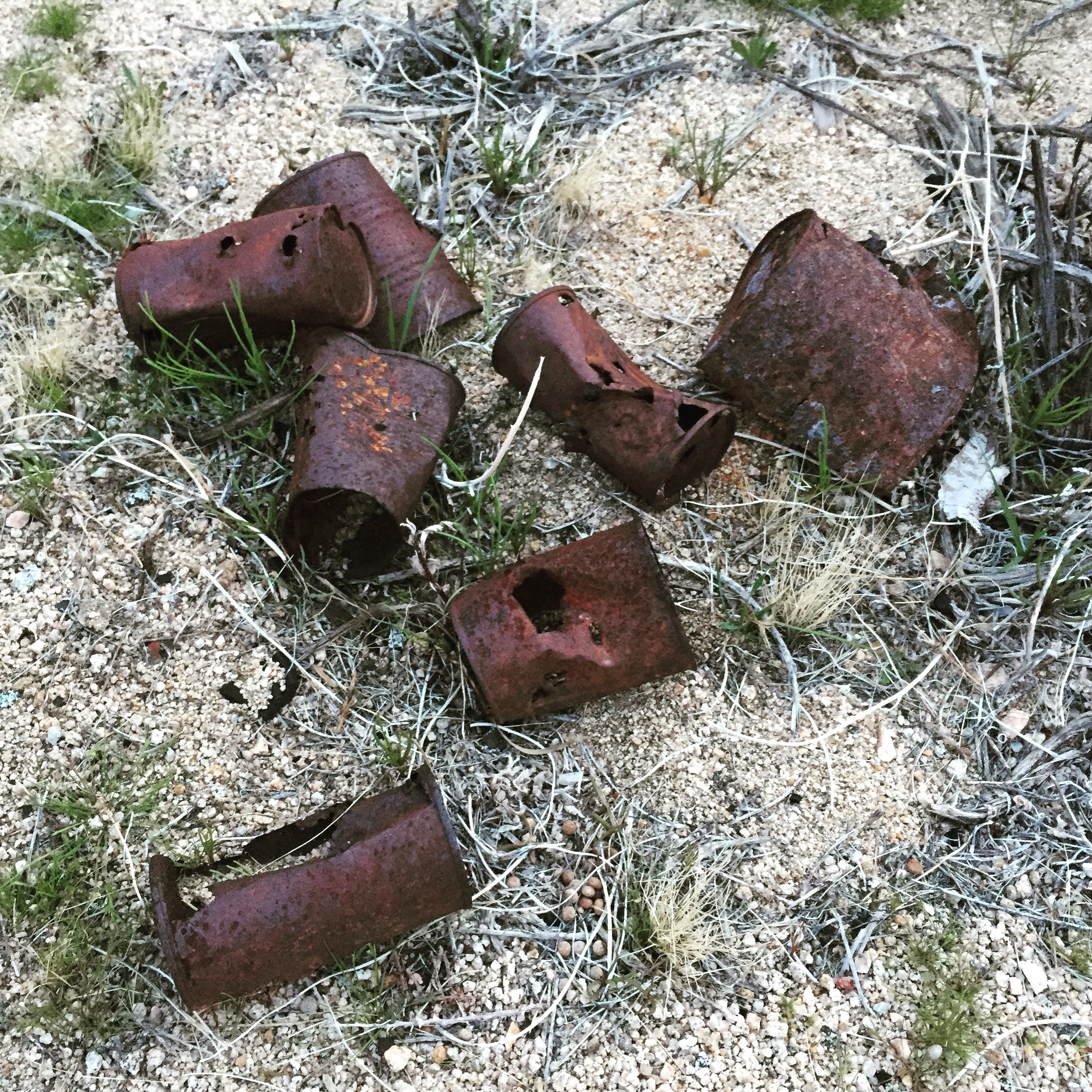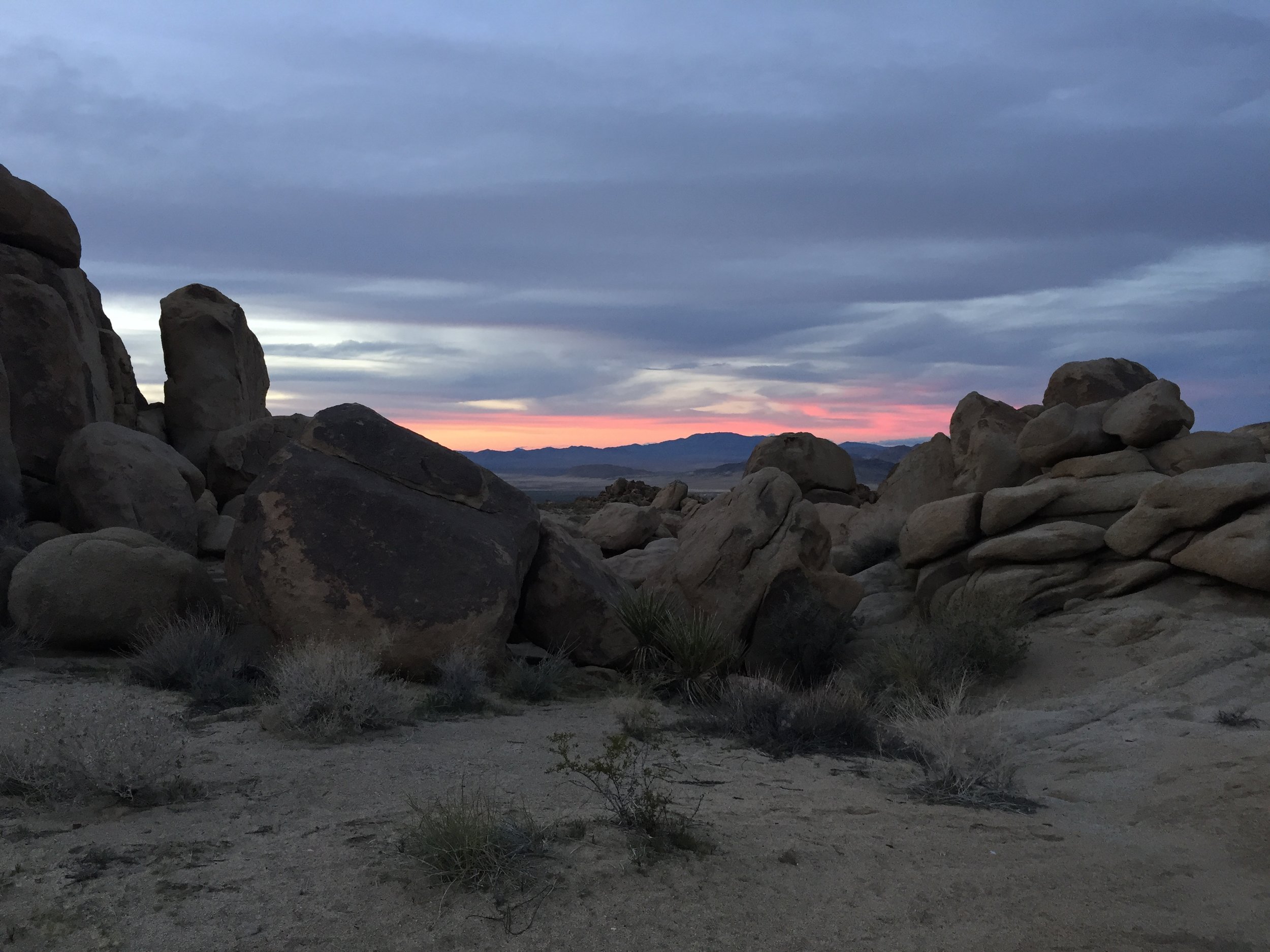 Day 5 was our "rest day." We got to sleep in enjoy a leisurely breakfast, check out the western wear store across the street from the hotel, and did a load of laundry in the hotel (thank goodness!). We loaded up into the trucks and headed to Joshua Tree National Park. We planned on a pretty easy spin, but the headwind had other ideas. The views were beautiful, when we could look at them. Executive decision was made to spare ourselves a long climb in the interest of getting back for all of the "extreme picnicking" planned. Hot toddies, grilled sausages, beers and chips of all sorts awaited us. Trevor shuttled the Marin to a local bike shop for a replacement crankset. We went to the Joshua Tree Saloon for dinner, where there was beer, food, karaoke and desert wizards.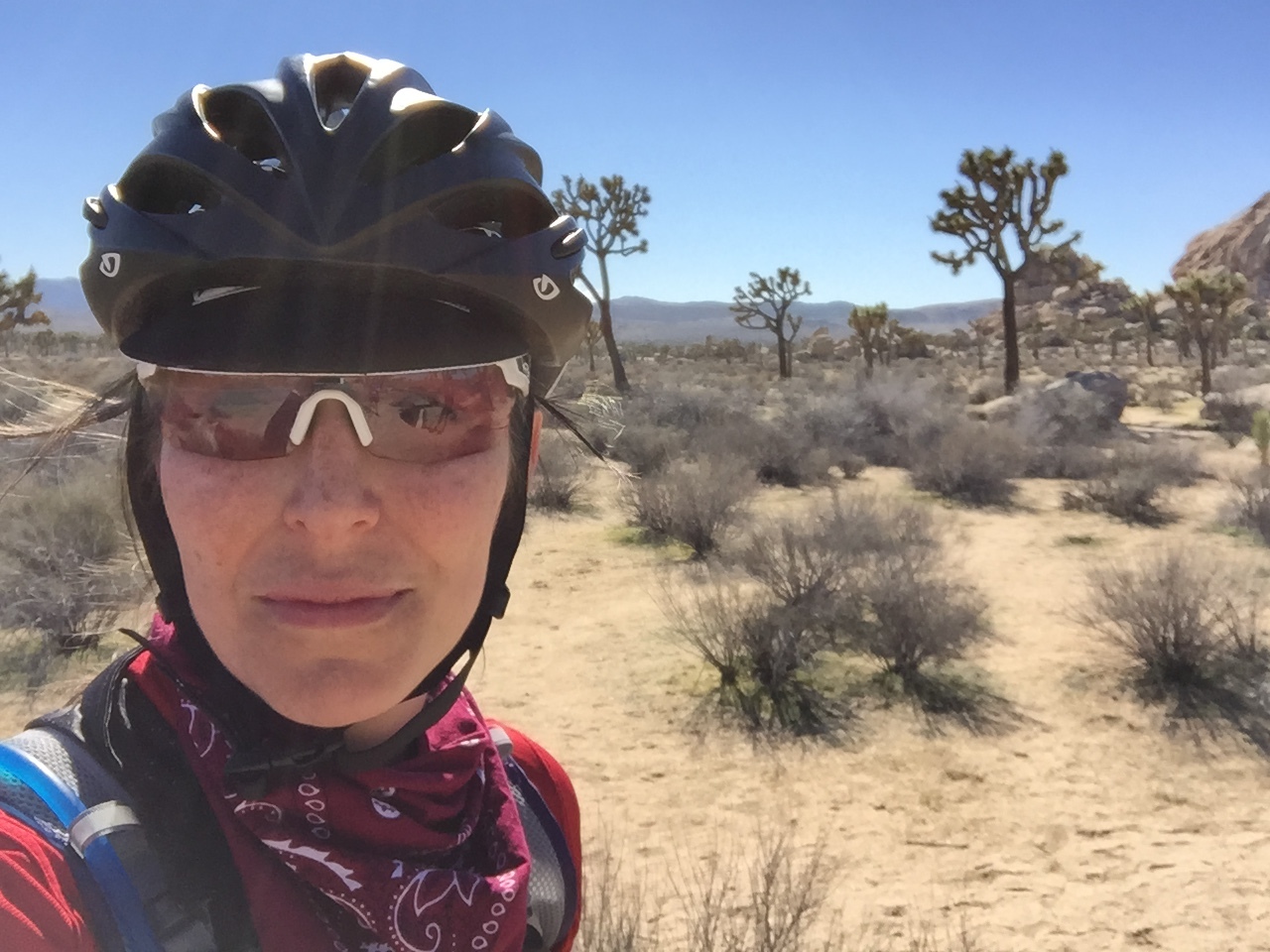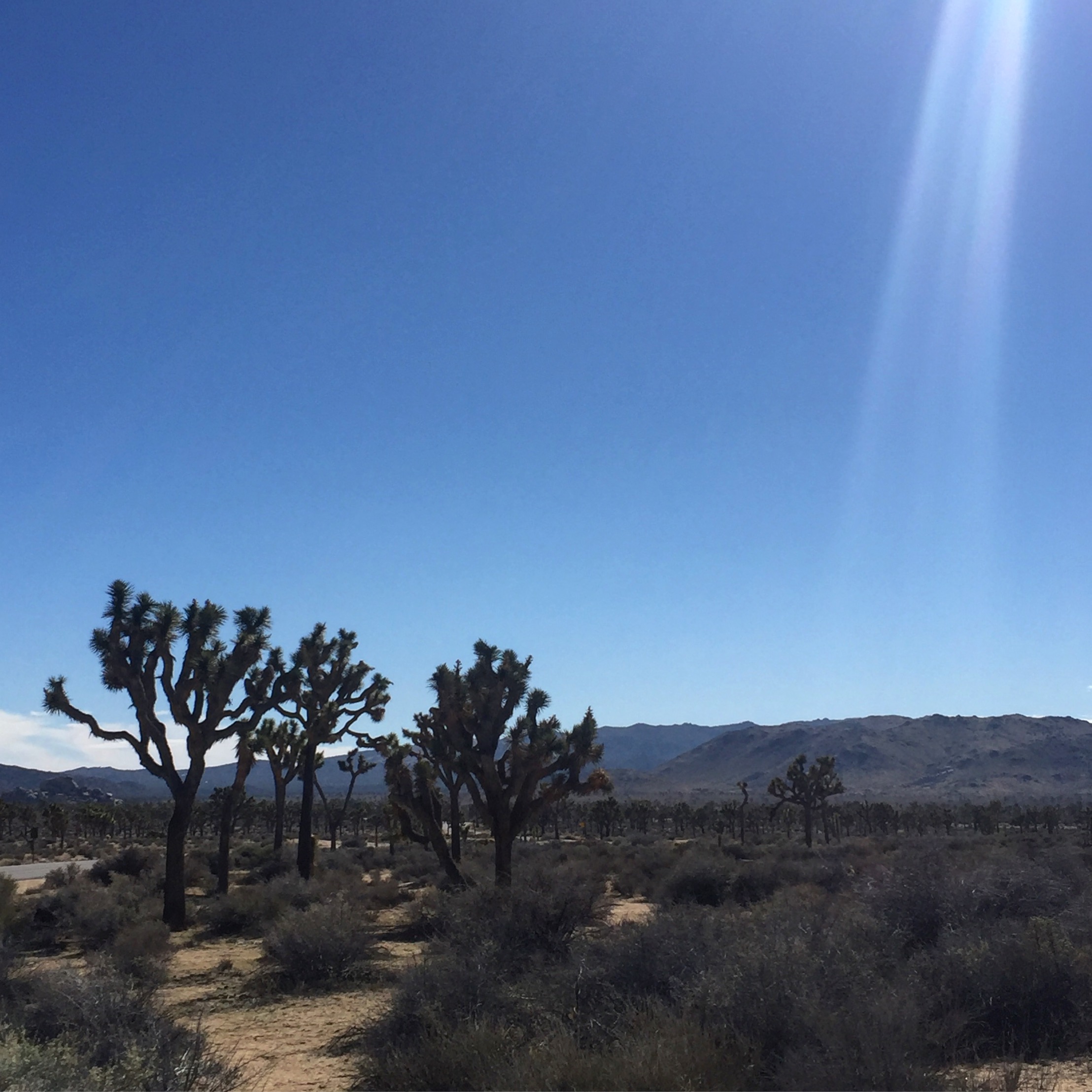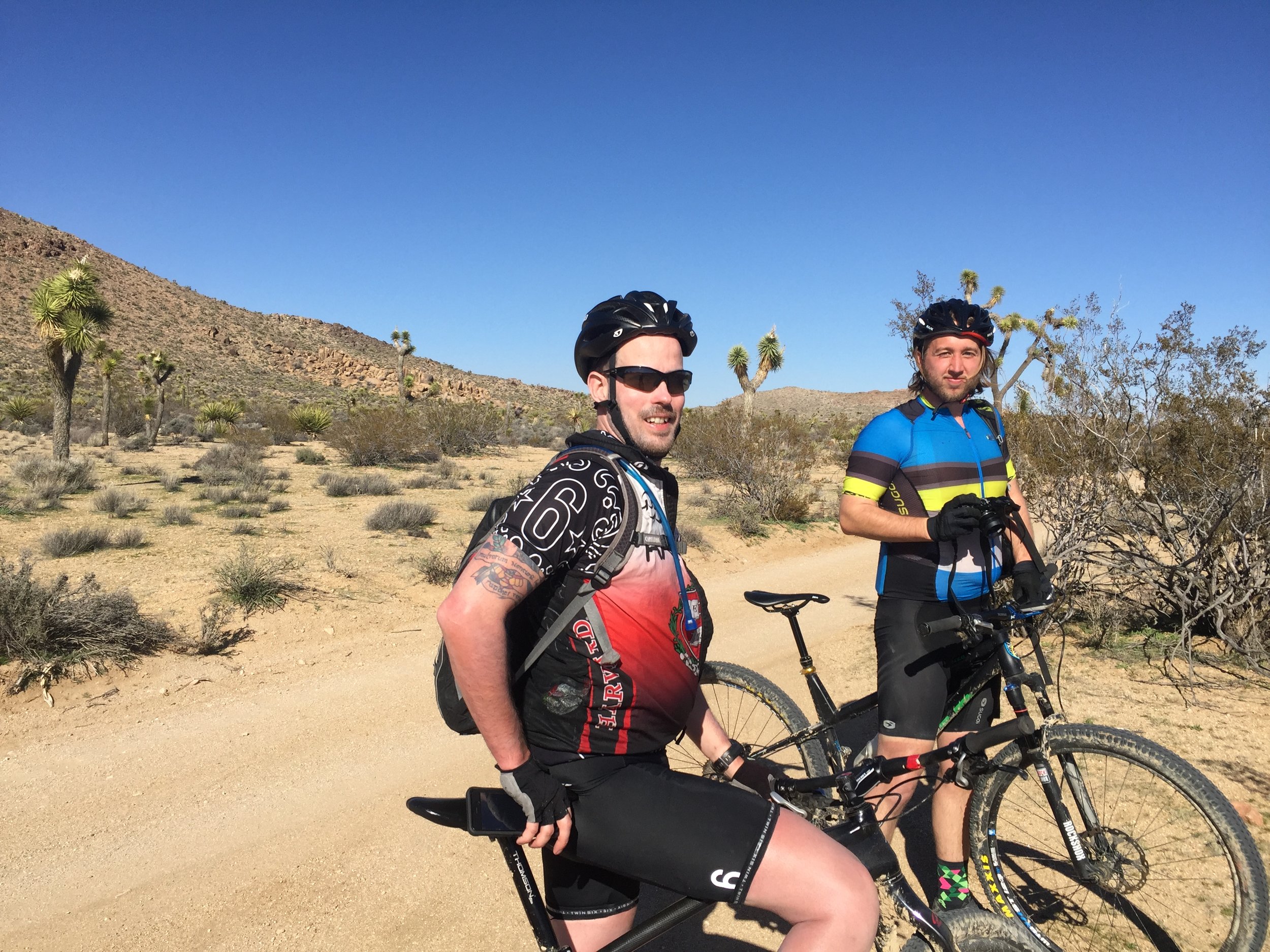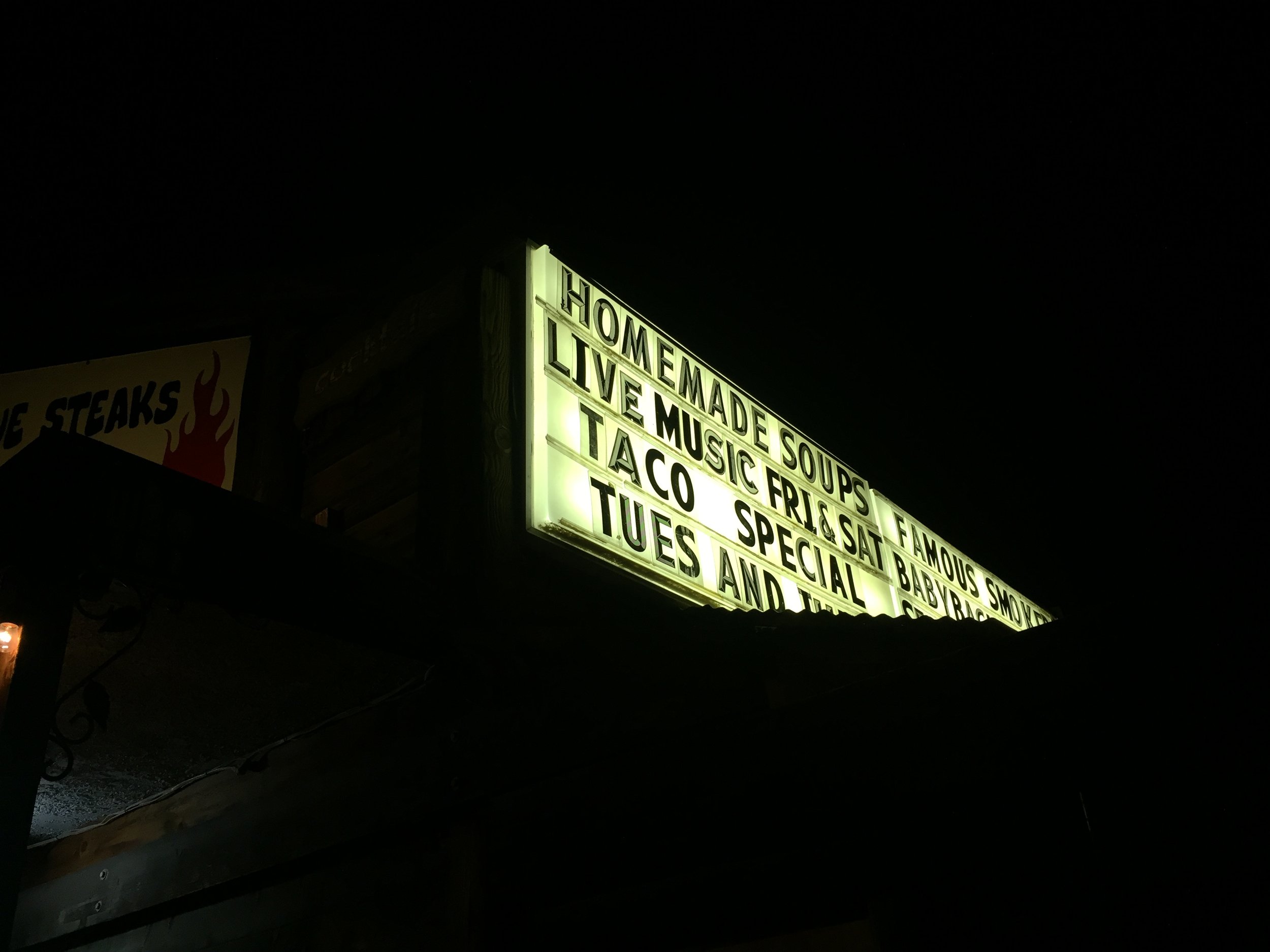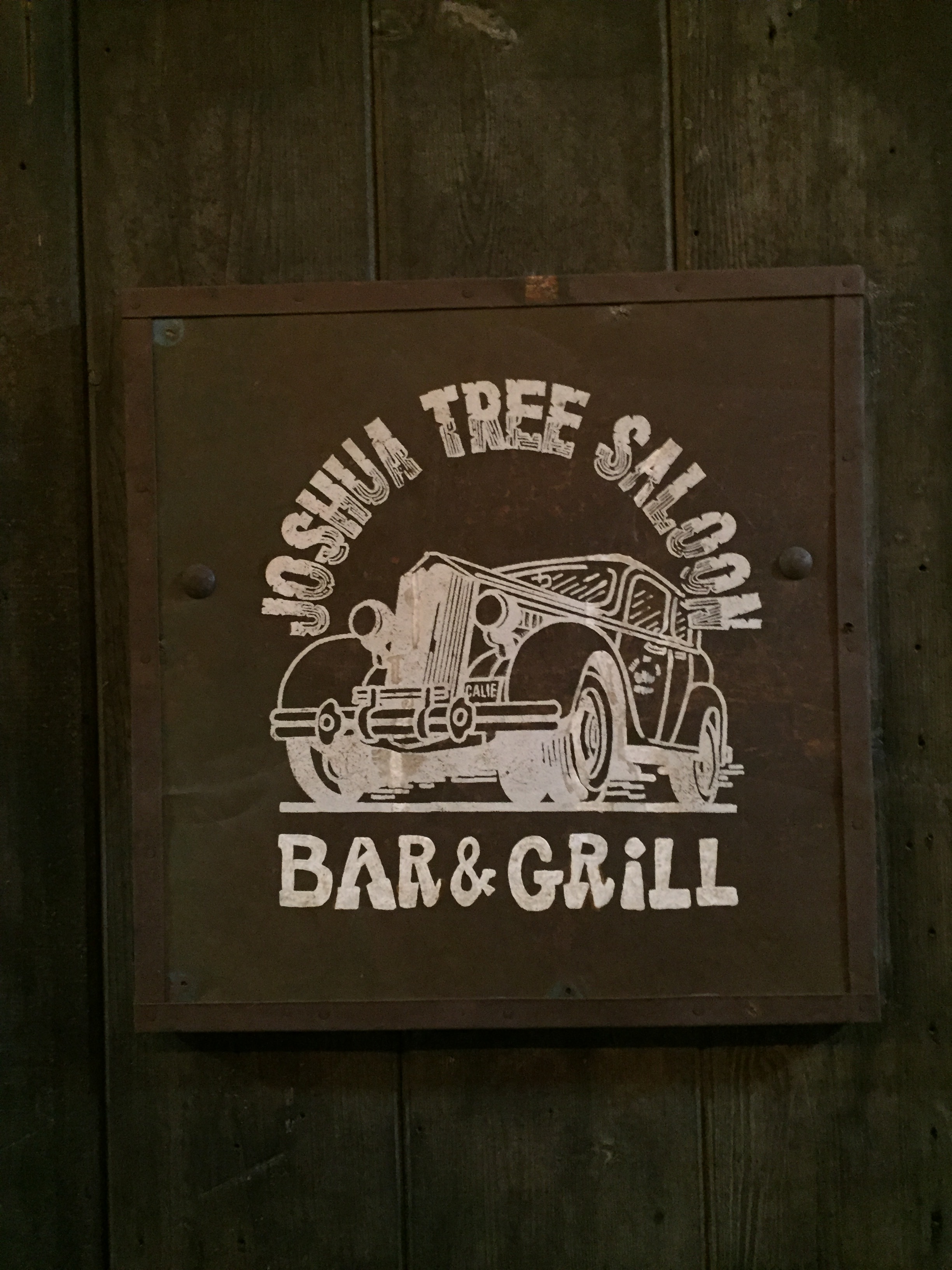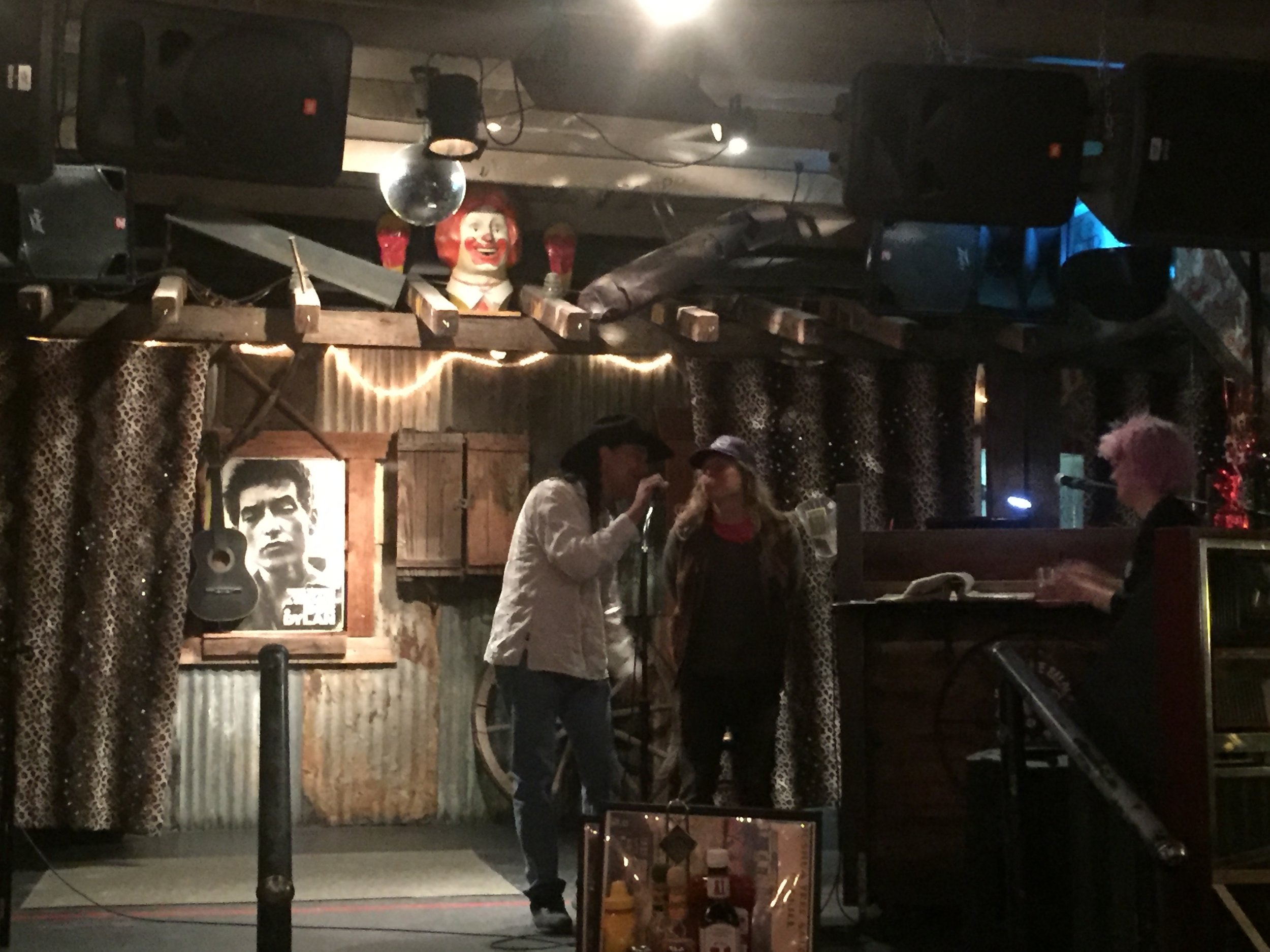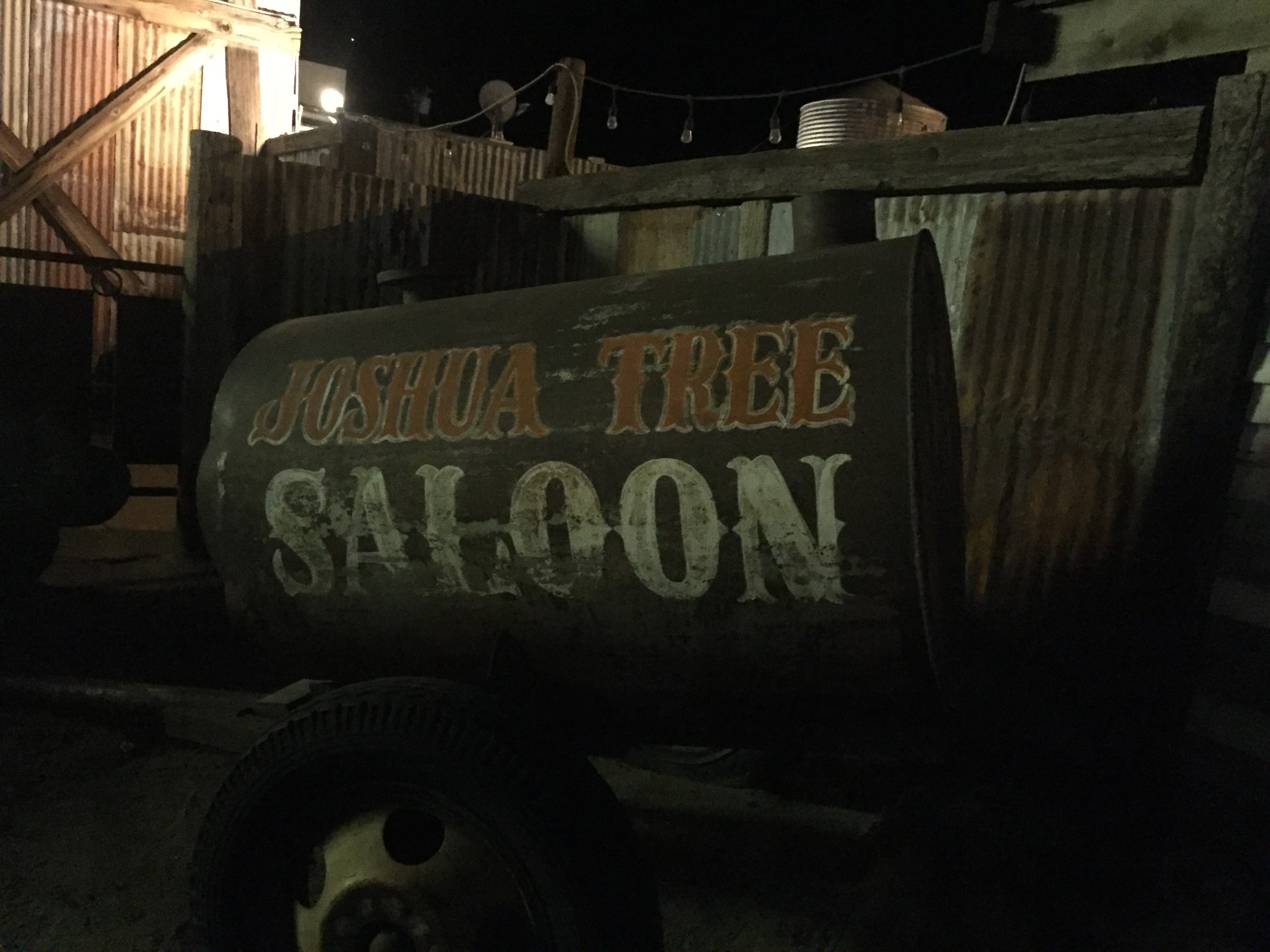 Murphy gave us very high hopes for what we would encounter on day 6. He was adamant that this was the best day of the entire tour. Of course #murphyfacts also included "it's a 2% downhill on gorgeous roads the WHOLE WAY, you guys." So everything with a grain of salt. But day 6 did not disappoint. For me, this was the hardest day, and even with getting shuttled ahead to bypass some road miles and catch up, it was still my biggest mileage day of the tour. It started with an early morning transfer for about an hour and a half to the Mojave Preserve, including a stop at Roy's Motel & Cafe on the way. Even before we got on our bikes, the vistas were impressive. We started the ride in pretty freezing temps, with a road descent, followed by a turnoff onto a dirt climb under a power line that had us shedding layers almost immediately. We climbed gradually, and with this being the shorter of two climbs that day, I was feeling in a groove. But as the power line stretched over some mountains, the grade picked up, the rocks got looser, and the switchbacks got more frequent. I made it to within 1.2 miles of the top, but by the end I was sucking wind and stopping every other turn, and reluctantly accepted Trevor's assistance up the last section. Quick snacks at the top and then a long screaming descent that made me once again grateful that I was on a mountain bike. The road across the Mojave Preserve stretched out in front of us all the way to the horizon. When we hit the bottom of the descent we found Chris McIntosh and at that point were again offered a transfer in the truck to bypass about 10 miles of pavement, to get back to dirt in the second major climb of the day. This one was more gradual, but the terrain was brutal, sandy and squishy. Chris Gilbert and I rode together for most of it, and it brought us up to a lunch stop, followed by more dirt roads (where thankfully a truck had driven and packed down some mud for us to ride through, and finally to a gorgeous forest of Joshua Trees with scenic vistas one after the other. As the shadows got longer, we descended again (stopping for photo ops when we could) through the forest down to a long dirt road, which occasionally became paved, where we descended into the sunset. At dark, I was freezing and opted for a lift the last 10 miles to the hotel with Chris Gilbert, while McIntosh finished off the day on his bike with the California kids. The hotel was a light in the distance, in the middle of nowhere, with only the Nipton Trading Post next door and the railroad in sight. And cats. There were lots of cats. Rather than a restaurant (since there wasn't one), Murphy cooked up dinner and the hotel provided us with complimentary earplugs (did I mention the railroad across the street?).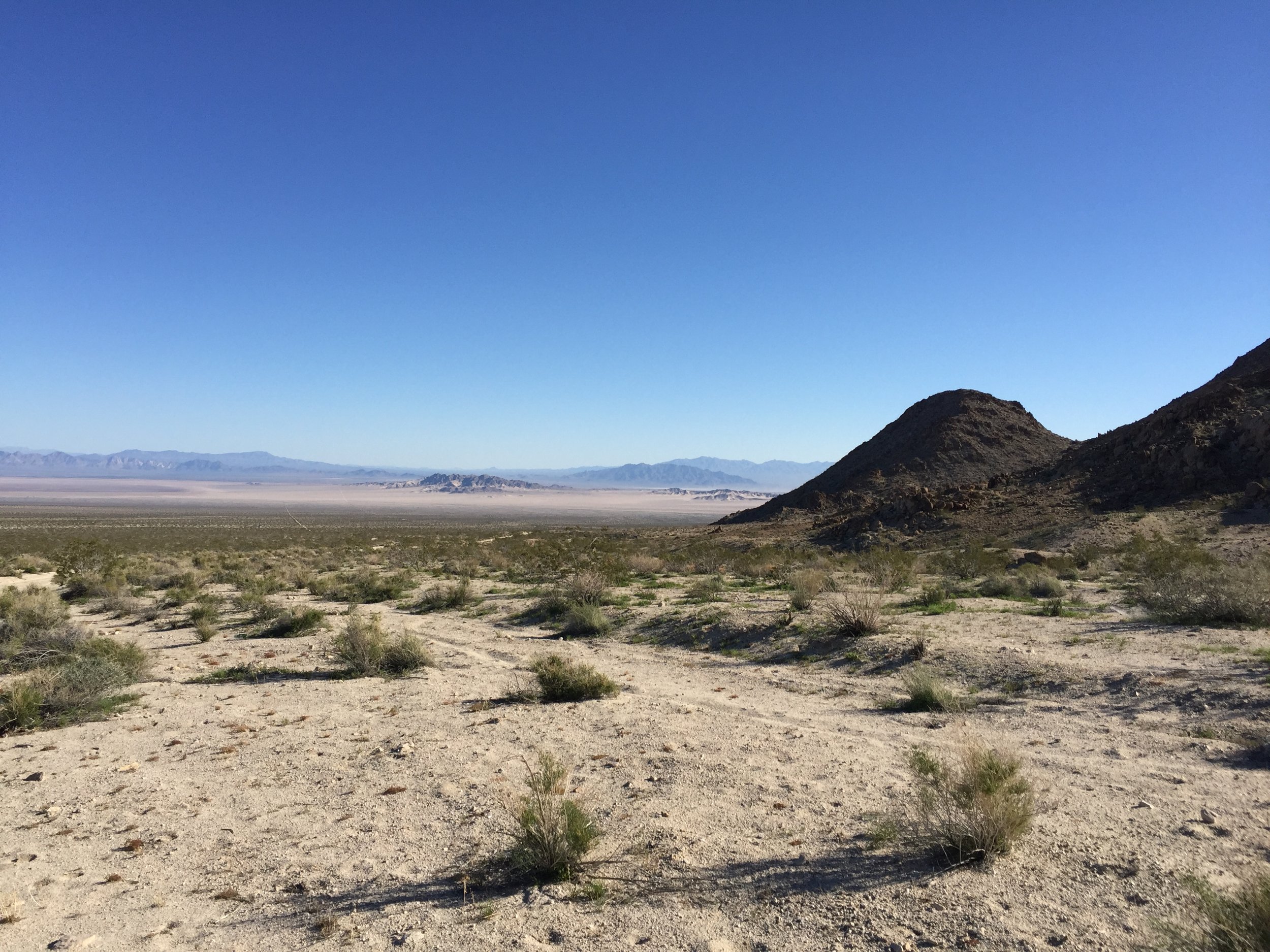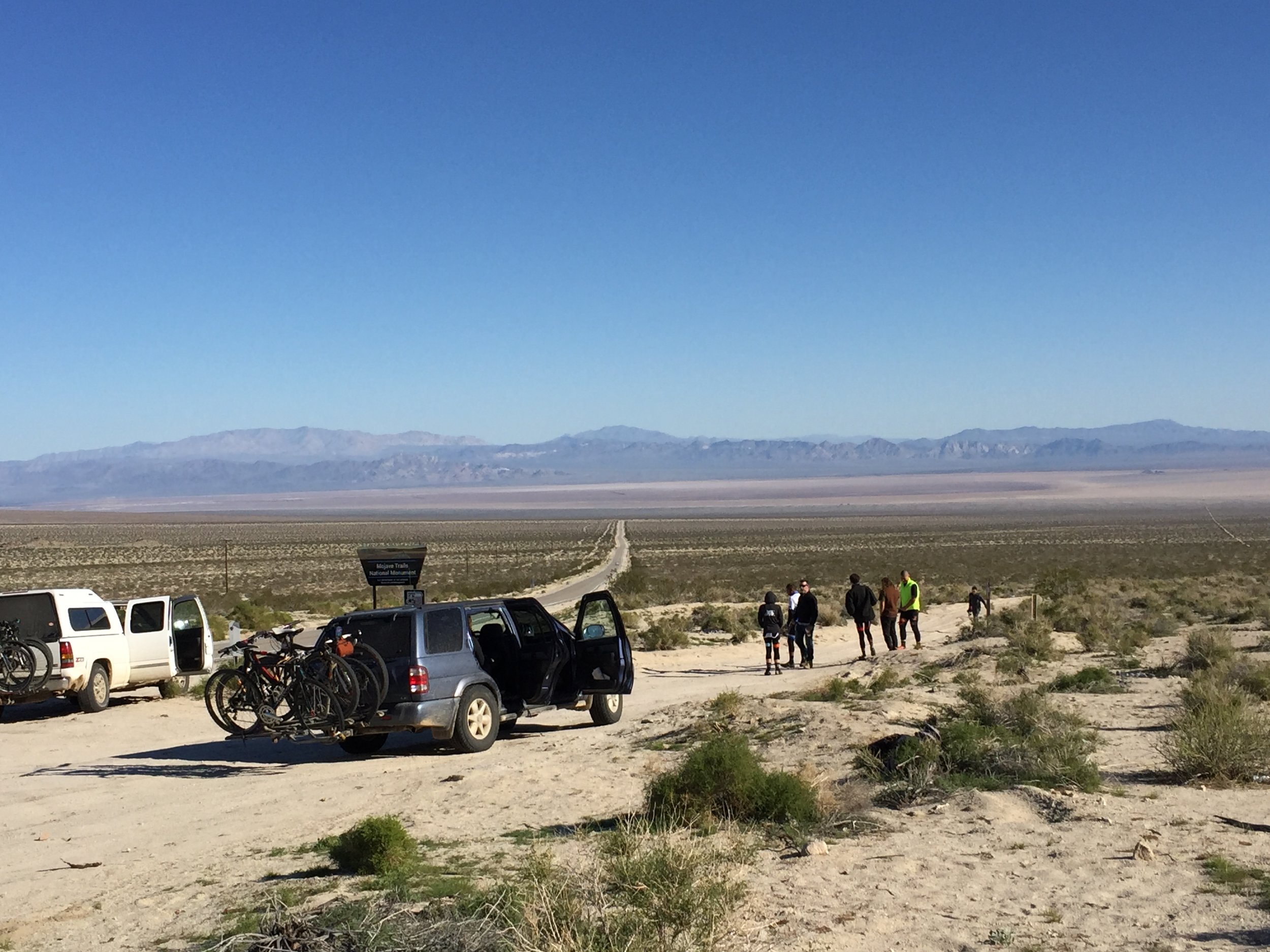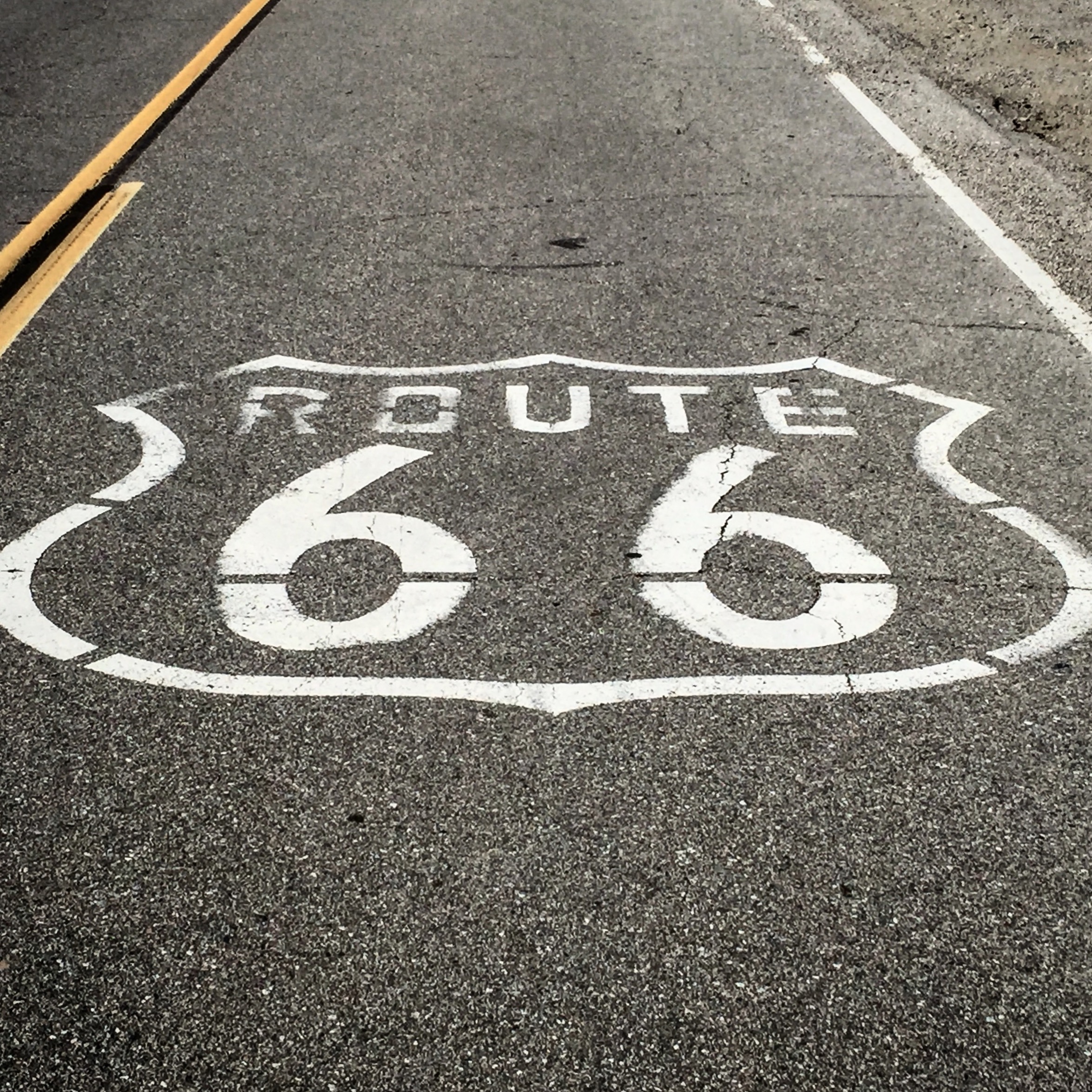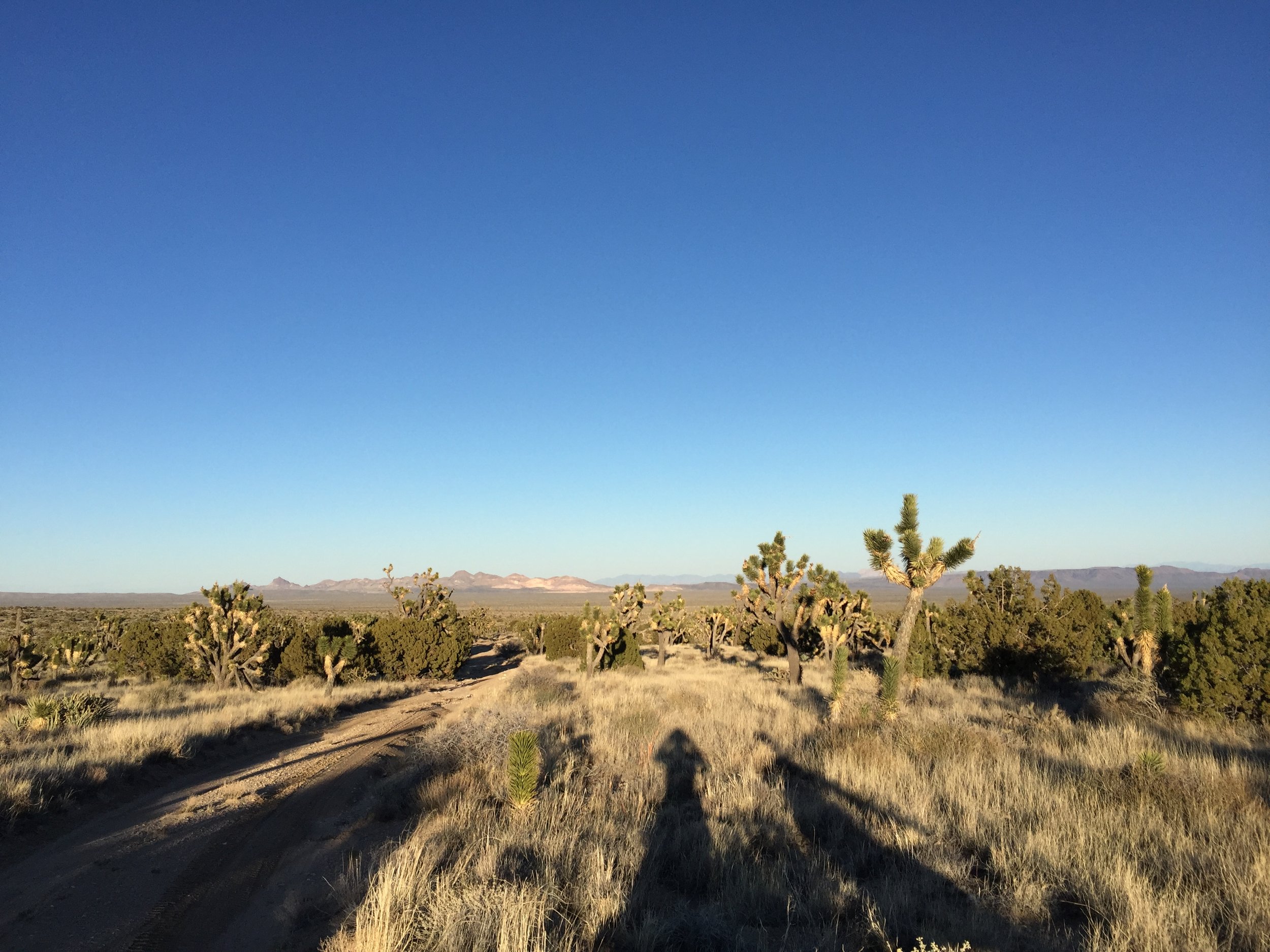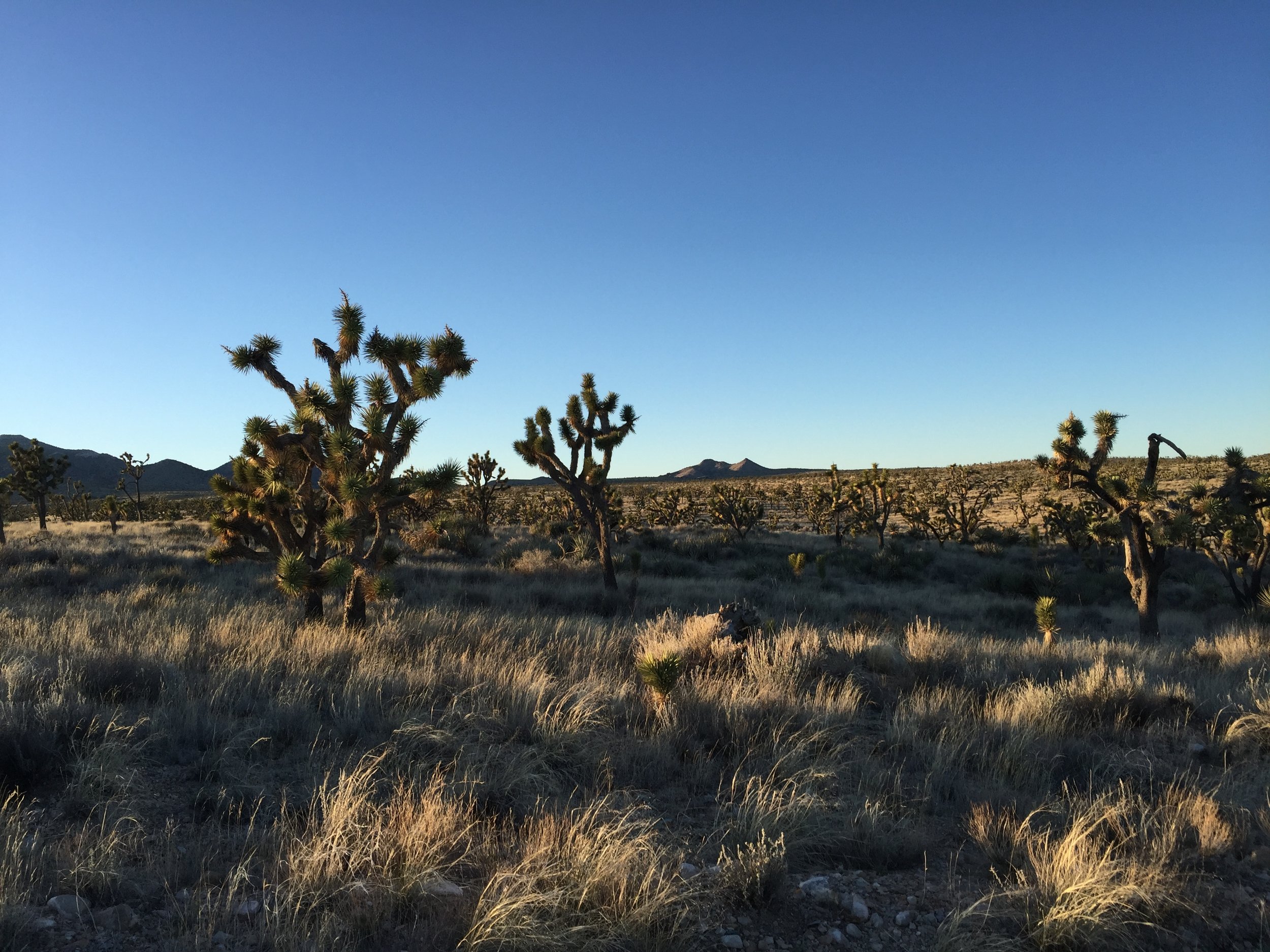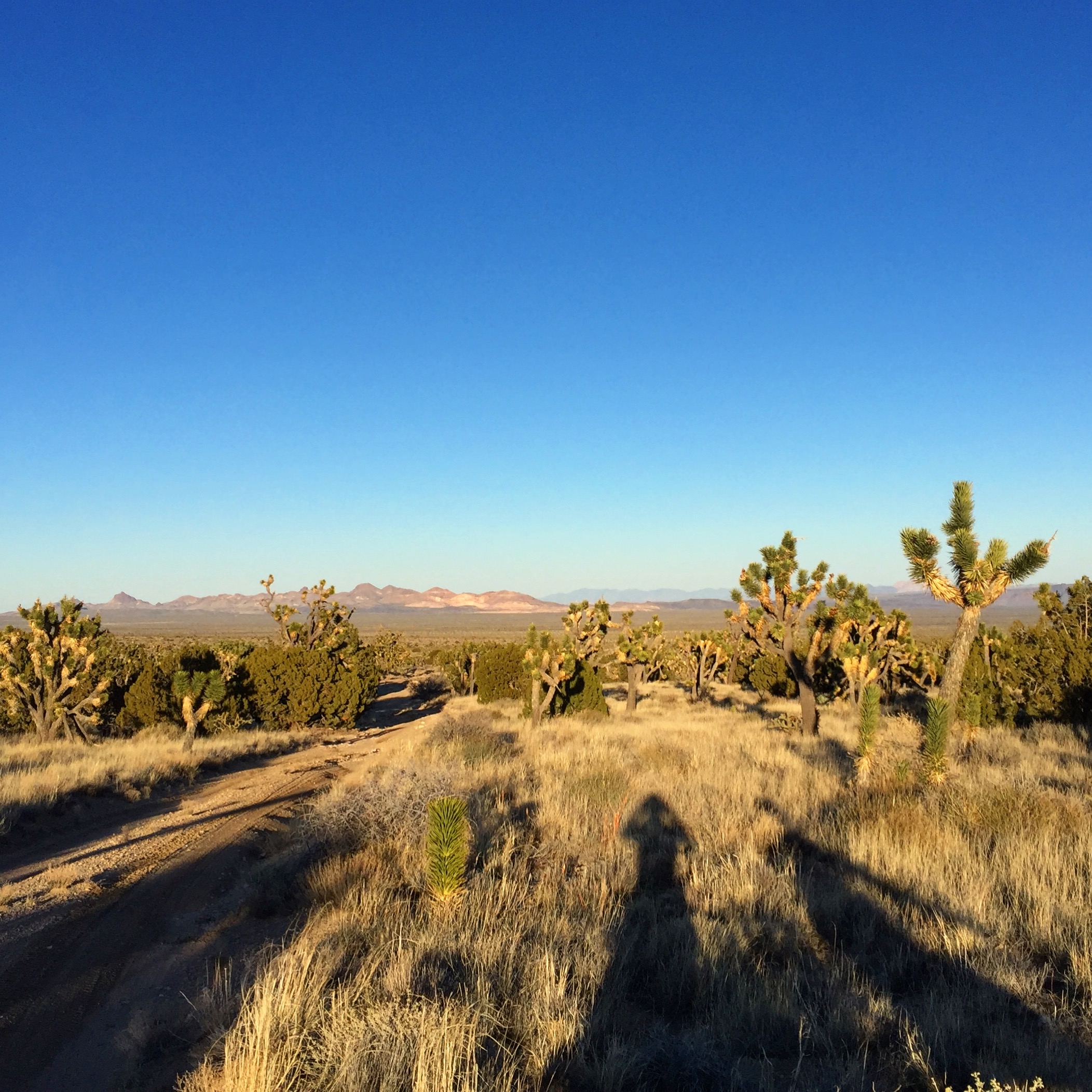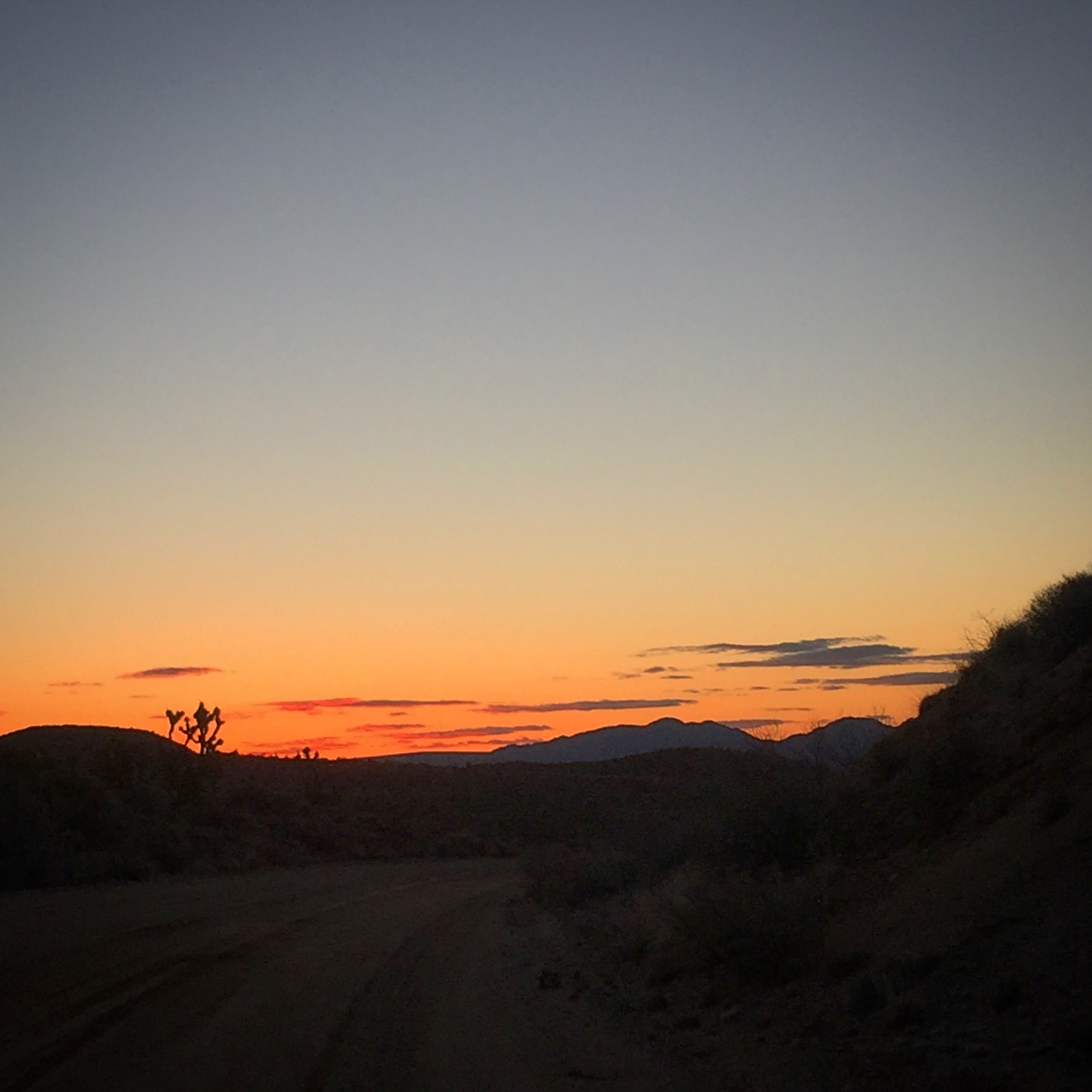 I don't think the Chris' and I could quite believe that we had made it to day 7. Of course, the "easiest day" still involved bumpy roads which hammered our pulvarized asses beyond all measure, as well as a 2000' climb up a very rocky dirt road. After a breakfast of pancakes cooked on the propane griddles outside the Nipton Hotel, we started our journey, almost immediately encountering a barbed wire fence. We passed the bikes over and climbed through, to encounter what might have once been a paved road but now was a bumpy, sandy adventure. We bounced, swished and surfed through that, until we got to a MASSIVE dry lake bed, packed hard as a rock (hey, a DRY, dry lake bed!), and in the distance we could see the solar panels and casinos at the Nevada state line. Then there was a long stretch of highway access road, where Trevor gave us some Red Vine handups to keep us going. The road was paved, but not at all maintained, and after 7 days of riding, pretty rough on the butt. With all this hard-pack, the 3 of us on our mountain bikes were well behind the guys on cross bikes, so once we made it to the snack stop, we were transferred ahead so we could meet up at our lunch stop, at a bar/restaurant at the base of a dirt climb where apparently some guy got shot and the bullet holes in the wall remain to this day. Following lunch, we headed up a climb, which like many of the others, was not particularly steep, but offered a choice of slippery gravel off camber or deep trench of rocks. So I slogged away at it, McIntosh up ahead and Gilbert within my sights. After a turn-off, I met up with Trevor again (not knowing that Chris had made a wrong turn and come back looking for me, while I got way ahead of him), and layered up for some downhill singletrack, a section of trail known as "3 Mile Smile." Apt. It was delightful, though at times a little tricky for me, a novice mountain biker. Towards the bottom, I realized I actually went fast enough that I hit the end of the trail at the same time as one of the guys on cross bikes. We were transferred ahead again over a stretch of roads on the outskirts of Las Vegas, and then we met up with the group. We rode the last 5 miles up the Vegas strip as a group, as big as a bus, taking the lane most of the way without much complaining from traffic, to the end of the tour, the Palazzo Hotel. A group of 9 dusty cyclists then paraded through the lobby of the Palazzo with the bikes rolling at our sides, huge grins, cheering and high-fiving at what we had just accomplished. It wasn't a matter of miles, it was the terrain, 50 degree temperature fluctuations, 20 mile an hour headwinds, surfing uphill through sand, terrifying descents, all you can eat grilled cheese prepared by chef Murphy, remnants of ancient peoples, remnants of not-so-ancient peoples, jaw-dropping landscapes in every direction you turn, creosotes so old that your entire existence seems like an instant, and a real adventure with old and new friends. High five, we did it. #TransMojave